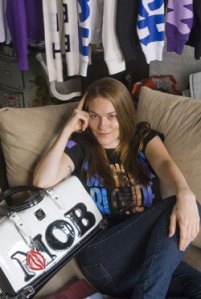 Leah McSweeney, a self-assured 25-year-old dirty blonde with calculating blue eyes and a mischievous smile, is the most official bitch of New York. At 14, she was thrown out of the Convent of the Sacred Heart private school on the Upper East Side. In 2002, her "fuck the police" mentality prompted a New York City police sergeant to grab her by the ponytail and repeatedly smash her face into a Times Square subway grate, knocking out her front teeth. She has gotten into bar fights with "haters" and "jealous bitches." Today, among the downtown streetwear scene spurred from boutiques specializing in limited-edition T-shirts and an urban aesthetic, she is known for her fearlessness and her connections as the entrepreneur behind one of the first and most successful independent streetwear lines for women: Married to the MOB. Guess what MOB stands for.
Despite the tough-girl reputation, Ms. McSweeney is laid-back and charming in person. On a recent rainy day in her spacious Tribeca apartment, she watched YouTube videos of the new ABC comedy "Big Shots," claiming that their slogan "Men are the New Women" was stolen from a sticker and T-shirt she made last year. "I'm calling my lawyer," she joked. Her sharp features melted at the sight of her 5-month-old daughter Kier, whom she had with her boyfriend Rob Cristofaro, owner of pioneering streetwear store Alife. She got pregnant during last year's Fashion Week. "Could she be any fucking cuter?" Ms. McSweeney cooed. She kissed Kier's tiny toes before Ms. McSweeney's mother, who visits a few times a week, took her into the next room for a nap.
"[I design] definitely for girls who are not afraid to speak their minds, that's probably the biggest thing," said Ms. McSweeney, who was dressed in pencil-thin tight jeans, rain boots and an oversized red Alife sweatshirt. She sat at her desk, wallpapered with pictures of her recently released new collection, including a T-shirt printed with a photo of her bloody fist and another emblazoned with the slogan "Protect Me From What I Want." "I think girls are always taught throughout life to act a certain way and please other people, and I think you should be pleasing yourself. Married to the MOB is more about that than the clothing. It's more a way for me to say what I feel."
Married to the MOB is comprised of pun-inspired, text-based graphic T-shirts and a few hooded sweatshirts and jackets. They're made for the downtown party girls and scenesters, from the street-smart tomboys in Nike sneakers to the couture-heeled, skinny-jean-wearing ladies from Williamsburg and the East Village.
"The only analogy I can give is that if Alifers were 'Greasers,' then the MOB chicks would be the 'Pink Ladies,' except there's no Sandra Dee's in this club," explained Jauretsi Saizarbitoria, former Jane magazine editor and friend of Ms. McSweeney, in an e-mail to The Observer. "Its not like a MOB girl is looking for a fight, but if you push her unnecessarily in a bar, she'll fuck you up. Don't mess with Leah … My first impression was a Tshirt she gave me a long time ago that read 'My girls rock Balenciaga and smoke mad marijuana.' I think that says it all."
The first Married to the MOB collection, which Ms. McSweeney made with her former partner Sharon Coyne in 2004, featured a shirt emblazoned with "Supreme Bitch," a taunting wordplay directed at Supreme, a men's skater store that defines streetwear in New York. "I wanted to kind of mock one of the guy brands," said Ms. McSweeney, who's quick to complain about the boys' club atmosphere in the business.
"I hate that I'm categorized with these people," she said. "Other brands, people are just corny. I would never hang out with them. Like even though we're in the same scene, in this clothing category, I would never associate with these people. They're jocks. They're losers."
Ms. McSweeney's bold opinions make her a contentious character in the streetwear business. When her line debuted, the virtual peanut gallery at the fashion and culture Web site Superfuture.com shrieked that her brand had overplayed ideas and was only getting sold because of her reputation—both as a regular at parties with streetwear boys and as the girlfriend of Alife's owner. "The only reason people are pimpin' their shit (and I do mean shit) is because 1)they're girls and 2)they're from NYC," was one response in Superfuture's community forum. Another: "'Supreme Bitch' … ooh! you're a bitch! AND you're down with the Supreme camp?!?!? holy fuck, you just went from skanky downtown groupie to irresistable runway model! how can i be down?"
"It's insecure men, basically, talking," Ms. McSweeney retorted with an eye roll. "All we're doing is making T-shirts. What's the big deal? I've read a lot of crazy things like, I hope that bitch gets AIDS. I hope she gets raped."
"I thought that tee shirt was gangster," wrote Mr. Cristofaro, referring to the "Supreme Bitch" tee, in an e-mail to The Observer. "I know that a lot of the guy brands were hating on MOB at first, and some still do, because it is a woman showing them how to get up in this tee shirt game."
MARRIED TO THE MOB's TOPS are in 50 shops worldwide and occasionally sell out within weeks of their arrival at stores, including Alife and Union in New York. Last summer, Ms. McSweeney designed a bikini with infamous graffiti artist KAWS, and it sold out in preorders before it officially went on sale.
High-end brands are starting to seek out Ms. McSweeney's street aesthetic. She collaborated with German accessories brand MCM to make an exclusive classic patent leather tote bag featuring the MOB logo and a puckering lip-shaped tag hanging from the handle.