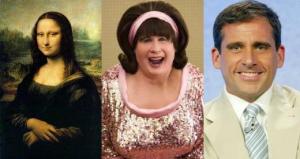 The secrets behind Mona Lisa smile are (possibly) discovered by a Frenchman with a fancy scanner. "With just one photo you go deeper into the construction of the painting and understand that Leonardo was a genius," Pascal Cotte said at the U.S. debut of an exhibit detailing his findings."
Steve Carell honed his acting chops in a late 1980's in a musical comedy thriller called Knat Scatt: Private Eye. "[T]he role of Rand, Ben Behemoth's dumb-as-a-brick henchman, was his real showcase. In fact, some of the lines and characterizations which were developed in that show can be seen in his later film work."
MySpaceTV debuted their first scripted, fully owned a Sex and the City-like TV show, Roommates. Tom is really excited.
Radiohead's new album In Rainbows might crash into major label territory with the Dave Matthews Band-founded APO Records.
Hairspray movie wins a lot of Hollywood Film Festival awards for its big heart and John Travolta's big booty.