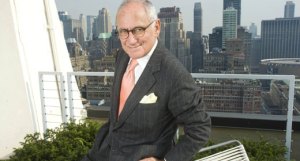 Location: In 1999, The Times reported that you didn't go south much from your Upper East Side apartment. You said, 'Going downtown doesn't fit into my schedule.' When did that change?
Mr. Stern: Sometimes I say things and then I get in trouble with the press! Our offices have been on 34th Street since 1995, but I think I meant I didn't tend to go downtown to restaurants.
Yet the developer Larry Silverstein just hired you to build the condo-hotel tower at 99 Church Street near Ground Zero. His architects usually design modern, glassy boxes. That's not your style, so what will your 60 stories at Church look like?
[Office] buildings tend to be bulky. Let's face it: They tend to look like a lot of Americans, who should slim down. … I have in mind to make a very classic, not classical or gothic, but classic tower that takes its place among the amazing towers of lower Manhattan's skyline.
Last week, Mr. Silverstein's daughter said, 'I realized there are just no grand Park Avenue apartments downtown, and I'd like to create that.' Is that what you'll do?
I would compare it to certain uptown, Upper East Side places like the Sherry-Netherland or the Pierre.
Do you have, to use a Yale phrase, 'anxiety of influence'?
Well, anxiety of influence, if you know that phrase, means that young poets, Harold Bloom said, would always try to camouflage as much as possible whom they were stealing from. Keeping in mind that T.S. Eliot said a bad poet borrows and a good poet steals, I go with T.S. Eliot. And I've gotten over the anxiety of influence.
Your new Fifteen Central Park West condo has done around $2 billion in sales, and Denzel Washington and Sting and one of the Google founders are reportedly buying there. Do you take pride in the fact that you build for the elite?
I take pride that we really got to the upper end of the market, absolutely! It's not the only kind of architecture I undertake—at the same time we were doing Fifteen Central Park West, we were also working for the Robin Hood Foundation on the Excellence Charter School [in Bedford-Stuyvesant], which is an equally successful project.
Is Rosario Candela, the godhead of 1920's high-end uptown design, overrated?
I think he was not the most brilliant designer of the builders; I sometimes think he is falsely credited with the exterior expression of the buildings, which he often worked with other architects in collaboration. But he was a genius at putting together intricate plans.
Is Fifteen Central Park West the best-designed building on Central Park West?
How can I answer that—of course it's the best new building on Central Park West, in my opinion, and I think it's as good as any of them.
Whose idea was Fifteen Central Park West's private residents' dining room, and chauffeur's waiting room?
Will Zeckendorf takes an incredible—well they [developers Arthur and William Lie Zeckendorf] both do—incredible, detailed, obsessive interest.
So the chauffeur's room wasn't your idea. Did you ever think, 'No!'?
No, I didn't. … In a building like that, instead of having all the black-car drivers wandering around in the streets, which is a difficult area, they can park their cars and come in and sit down. I think it's kind of humane and nice. Always, and this is the important part, the references were: '740 Park Avenue has something like this, 834 Fifth Avenue has …' I'm talking about the amenities, so our building learned not only aesthetically but functionally from all the best buildings before. You might say, 'Well, why would anyone move into Fifteen when they could move into, let's say, 740 Park?' Seven-forty's a great building, but … [Buyers] want to be with their children in what you call a family room, and then they want a formal dining room also.
Do you have an apartment there?
No, I can't afford that. I'm an architect—don't be silly!
Big real estate developers like Related weren't always patrons of architecture. Now designers like Jean Nouvel, Richard Meier and you are doing giant towers. Are developers lucky to have star architects, or are architects lucky to have these developers?
It's a mutually beneficial world. There has been a significant sea change in the relationship between the development community and architecture. … People come to talk to me and say, 'I've taken an apartment in the Jean Nouvel building.' They don't say 'the Rudin building' or 'the Related building,' they say 'the Stern building' or 'the Meier building.'