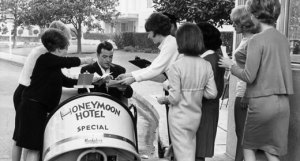 We'll miss the machismo of Vegas crooner and Broadway star Robert Goulet, who passed away from a lung disease at 73 yesterday.
Robert Goulet, who marshaled his dark good looks and thundering baritone voice to play a dashing Lancelot in the original "Camelot" in 1960, then went on to a wide-ranging career as a singer and actor, winning a Tony, a Grammy and an Emmy, died yesterday in Los Angeles. He was 73.
After the "Camelot" triumph, Mr. Goulet was called the next great matinee idol. Judy Garland described him as a living 8-by-10 glossy. He was swamped with offers to do movies, television shows and nightclub engagements. Few articles failed to mention his blue bedroom eyes, and many female fans tossed him room keys during performances. His hit song from "Camelot," "If Ever I Would Leave You," remains a romantic standard.
"Something in his voice evokes old times and romance," Alex Witchel wrote in The New York Times Magazine in 1993. "He makes you remember corsages."
Need cheering up? Will Ferrell pays homage to him here.