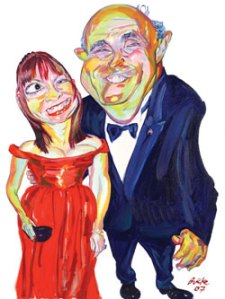 It's the middle of October and Rudy Giuliani is still leading the race for the Republican nomination. His old enemies in New York can't understand it.
"It's totally unbelievable," said Charles Rangel, the dean of the New York Congressional delegation and a longtime adversary of Mr. Giuliani. "I refuse to believe that this could possibly happen to our country. I have too much confidence in our country to believe that this could really happen."
All presidential candidates have some element of hometown opposition—constituents angry about a factory closing, politicians spiteful about losing a bill or an election. But no candidate engenders as much local animus as Mr. Giuliani, whose terms as mayor were characterized by a series of spectacular running battles with various, mostly liberal constituencies.
For the first months of his candidacy for president, prominent progressives in New York mocked the notion that a pro-choice, immigration-friendly serial husband with a history of opposition to guns would have a shot at the Republican nomination.
But now, with Mr. Giuliani up nearly 10 percentage points in national polls and unexpectedly competitive in the early primary states of New Hampshire and South Carolina, a mixture of nervousness and disbelief is running through the ranks of his old antagonists.
"People say, 'Still?'" said Mark Green, a former New York City public advocate and persistent foil to Mr. Giuliani. "If the other 49 [states] knew what we knew, he wouldn't be in the ballpark, much less winning the game."
Norman Siegel, who served as the director of the New York Civil Liberties Union during Mr. Giuliani's tenure as mayor, said, "I've been saying to people in New York, especially the liberal community that I'm proud to be part of, that unless the truth is revealed about the real Rudy, he could win, and not just the Republican nomination, but the presidency as well. Most people in New York look at me, and they say 'no way.' They say it can't happen. The political leadership in New York is underestimating him. They are really in political denial. I say to people, 'You better wake up.'"
Mr. Siegel, for one, intends to do whatever he can to forestall a Giuliani victory.
He has been encouraging the family members of Sept. 11 victims to air their grievances about Mr. Giuliani in town-hall–style settings in primary states, such as New Hampshire, where Mr. Siegel is currently trying to get Dartmouth College to give him access to an auditorium. ("There is a possibility that some of the family members might get on the road," he said.)
Mr. Siegel says that he has also reached out to firefighter groups in South Carolina, New Hampshire and Florida in search of Giuliani critics, and he has advised his liberal brethren in New York not to endorse another candidate so as not to compromise the credibility of their anti-Giuliani testimony.
"New Yorkers who really don't want Rudy Giuliani to be president of our country need to be talking about it, need to be writing about it, and not just in Manhattan, but to get around America," said Mr. Siegel.
Other Giuliani nemeses have been contributing to the effort in different ways.
"I've not only written a book called Giuliani: Nasty Man, I'm on television programs, answering questions," said former Mayor Ed Koch, a Democrat who has often endorsed Republicans not named Giuliani. "I have access to getting my voice heard."
Referring to Mr. Giuliani's performance on and after Sept. 11, he added, "We can't equate his eight years of outrageous behavior with his several weeks of superb behavior."
Mr. Giuliani's detractors lament that his strong showing is a freakish anomaly caused by the overall weakness of the Republican field.