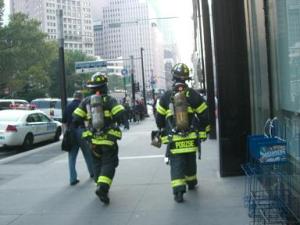 Here's a shot of two fire fighters on their way into 250 Broadway yesterday, which was partly evacuated after a suspicious package containing white powder was found there. A reader who was evacuated from the building sent over this, and a few other photos, this morning.
This reader also emailed to say:
It was frightening yesterday when, around 3:20, two police officers knocked on our office door and – very nicely – asked me to gather my personal belongings and evacuate the building. Outside the building I was greeting by two police trucks, two police cars, three police SUVs, two fire trucks, the fire chief's SUV and six or seven firefighters walking into the building. I remember, though, that when I left the office I passed by the mail room where a police officer (one of four or five knocking on doors on our floor) was writing down the mail room code (to unlock the door) on the palm of his hand.
I actually took some pics of the firefighters cuz they looked cool in their uniforms
No injuries were reported.
So far, the only new info about what happened there is a line in this story today speculating that the package may have been sent by someone mentally disturbed.
Any more info, let me know.