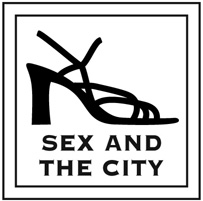 [Ed. note: this article was originally published on April 15, 1996]
Carrie went to Aspen by Learjet. She wore the white mink coat, a short dress and white patent-leather boots. It seemed like the thing to wear on a Learjet but it wasn't. The other people she was traveling with, the ones who owned the Learjet, were wearing jeans and sweaters and sensible boots for snow. Carrie was very hung over. When the jet stopped for refueling in Lincoln, Neb., Carrie had to be helped down the steps by the pilot. She wandered around in her big mink and sunglasses, smoking cigarettes and staring out at the endless, flat yellow-dry fields.
Mr. Big was waiting at the airport in Aspen. He was sitting outside, too perfectly dressed in a brown suede coat and a brown suede hat, smoking a cigar. He walked across the tarmac and the first thing he said was, "The plane is late. I'm freezing."
"Why didn't you wait inside?" Carrie asked. They drove through the tiny town, which was like a toy town placed by a child at the base of a Christmas tree. Carrie pressed her fingers over her eyes. "I'm going to relax. Get healthy," she said. "Cook."
Stanford Blatch also arrived by private jet. He was staying with his childhood friend, Suzannah Martin, because, he had told her, "I want to turn over a new leaf, and we should really think about getting married. I can get my inheritance, and with your money and my money, we can live the way we've always wanted."
Suzannah was a 40-year-old sculptress who wore dramatic make-up and large pieces of jewelry. She had never seen herself in a traditional marriage. "Separate bedrooms?" she asked.
"Naturally."
Mr. Big bought Carrie a ski suit, gloves, hat, long underwear. Also a tiny thermometer that clipped to her ski gloves. It was the one thing she had begged him to buy her, but he resisted until she pouted; then he agreed to buy it in exchange for a blow job, even though it only cost four dollars. In the house they had rented, he zipped up her ski suit.
Mr. Big smoked cigars on the gondola and talked on his cellular phone. Then he would ski behind Carrie on the slopes, watching to make sure no one ran into her. "You can handle it," he'd say, as she made turn after turn, curving slowly down the mountain. Then she'd stand at the bottom, watching Mr. Big bounce over the moguls.
Later, in bed together, Mr. Big said, "We're close now, aren't we?"
"Yes."
"You always used to say we had to be closer. You don't say that anymore."
Carrie thought, things can't get any better.
'I'm Looking for Tail'
Stanford Blatch was strolling along the top of Aspen mountain in a pair of ponyskin après-ski boots and swinging a pair of binoculars. He ran into Mr. Big.
"I didn't know you were a birdwatcher," said Mr. Big.
"I'm not looking for birds. I'm looking for tail," Stanford said. "I'm checking out the private jets so I'll know what kind to buy."
"You're getting a jet?"
"I'm thinking about getting married and I want to be sure my wife gets around properly."
"Your wife?"
"Yes. I'm on my way to have lunch with her right now."
"I can't believe this," Mr. Big said.
Carrie and Mr. Big went for dinner at the Pine Creek Cookhouse. They took a horse-drawn sleigh to the restaurant. The sky was black and clear, and Mr. Big talked all about the stars, then about how he was poor as a kid and had to leave school and work.
They brought a Polaroid camera and took pictures of each other in the restaurant. "Listen," Carrie said. "I have to ask you something."
"Shoot," said Mr. Big.
"You know at the beginning of the summer? When we'd been seeing each other for two months and then you said you wanted to date other people?"
"Yeah?"
"And then you dated that model for a week? I just want to know, if you were me, what would you have done?"
"I guess I never would have talked to you again."
"Is that what you wanted?" Carrie asked. "Did you want me to go away?"
"No," Mr. Big said. "I wanted you to stick around. I was confused."
"But you would have left."
"I didn't want you to go. I don't know. It was a test," he said.
"A test?"
"To see if you really like me. Enough to stick around."
"But you really hurt me," Carrie said. "I'll never forget that, you know?"
"I know, baby. I'm sorry," he said.
When they got back to their house, there was a message on the machine from Rock Gibralter, the movie producer. "I'm here," he said. "Staying with Tyler Kydd."
"Tyler Kydd, the actor?" Mr. Big asked.
"Sounds like it," Carrie said, aware that she was trying to sound as if she couldn't have cared less.
Prometheus Bound
"That was just wonderful," Stanford said. He and Suzannah were sitting in front of the fire. Suzannah was wrapped in a black Chinese robe. "Thank you, darling," she said.
"You really are the most wonderful cook. Where did you learn to cook like that? You really are the perfect wife, you know. I can't imagine why you're not already married."
"Straight men bore me," Suzannah said. "Eventually, anyway. They become incredibly demanding."
Stanford stood up. "Good night, my dear." He gave her a chaste kiss.
Stanford turned on his computer to check his e-mail. As he had hoped, there was a message for him. He called a taxi. "Caribou club," he said to the driver.
In one corner of the Caribou, two men and a woman were drinking and laughing. Stanford approached. The guy in the middle looked up. He was about 40, tanned, bleached hair. Stanford could see that he had his nose and cheeks done, and probably hair plugs, too. "Hercules?" Stanford asked.
"Yeah," the guy said.
"I'm Prometheus," Stanford said.
"You don't look like much of a Prometheus to me," Hercules said.
"Are you going to invite me to have a drink, or are you just going to insult me?" Stanford asked.
"I think we should just insult you," said the other guy. "Who are you, anyway?"
"Another loser I met on the Internet," said Hercules.
"Takes one to know one," Stanford said.
"I check out every guy who comes through Aspen. Then I take my pick," said Hercules. "And you…don't make the cut."
"Well, at least I know how to pick my plastic surgeon," Stanford said. "Have a pleasant evening."
Carrie and Mr. Big were having lunch outside at the Little Nell when they ran into Rock Gibralter. And Tyler Kydd.
Tyler Kydd saw them first. He wasn't handsome like Mr. Big. But he was cool. Craggy face. Longish blond hair. He caught Carrie's eye. "Uh-oh," she thought.
Then Mr. Big said. "Rocko. Baby." And stuck his cigar in his mouth and slapped Rock on the back.
"I've been looking for you guys," Rock said. "Do you know Tyler Kydd?"
"No, man," Mr. Big said. "But I know your movies. When are you gonna get the girl?" They all laughed.
"Big just got accosted by a Mountie," Carrie said. "For smoking his cigar on the gondola."
"Something like that happened to me once in Gstaad," Tyler said to Carrie. She thought, he would be perfect for Samantha Jones. "Excuse me," she said. She went into the ladies' room. She was a little nervous. "If I wasn't with Mr. Big…" she thought. Then she thought that it wasn't a good idea to think that way.
'My Feet Are Cold'
Tyler's house was a fort in the woods that had once belonged to a porn star. There were bearskin rugs and animal heads mounted on the walls. They drank shots of tequila and shot arrows. They went for a walk in the woods.
"I want to go in. My feet are cold," Mr. Big said.
"Why didn't you wear sensible shoes?" Carrie said. She stood at the edge of the stream, pushing snow in with the toe of her boot. "Don't,' Mr. Big said. "You'll fall in."
"No, I won't," Carrie said. She kicked more snow into the stream, watching it melt in the water. "I always used to do this when I was a kid."
Tyler was standing behind them. "Always pushing the limits," he said, and Carrie turned and they stared at each other for the briefest second.
On Carrie and Mr. Big's last night, they went to a party at the home of Bob Milo, a famous Hollywood movie star. The grounds were decorated with Christmas lights, even though it was February. Inside the house, there was a sort of grotto with koi swimming in it and a bridge you had to walk over to get to the living room.
Bob Milo was holding forth in front of the fireplace. His girlfriend and his soon-to-be ex-wife were there, looking almost like twins except the wife was about five years older than the girlfriend. He was dressed in a sweater and the bottom half of his long underwear. He was about 5 feet tall and was wearing slippers with pointy toes so that he resembled an elf.
"I work out six hours a day," he was saying, when Stanford interrupted him. "Excuse me," he said, "but who decorated the interior of your jet?"
Milo glared at him.
"No, I mean it," Stanford said. "I'm thinking of buying."
Carrie was sitting at a table, eating her way through a pile of stone-crab claws. She was talking to Rock. Mr. Big was sitting next to Carrie, talking to Tyler, who had two women draped over him. Carrie looked at Tyler and thought, I am so glad I don't have to deal with a man like that.
There was a sort of mini-commotion and a blonde girl came over, waving her arm and talking in some kind of accent, and Carrie thought, uh-oh, I've heard that voice before.
The girl came over and practically sat in Mr. Big's lap. They were both laughing about something. Carrie didn't turn around. Then someone said to Mr. Big, "How long have you two known each other?"
"I don't know. How long?" the girl said to Mr. Big.
"Maybe two years?" Mr. Big said.
"We bonded at Le Palais, in Paris" the girl said.
Carrie turned and smiled. "Hello Ray," she said. "What did you do? Give him one of your famous blow jobs in the corner?"
There was a moment of shocked silence, and then everyone began laughing, except Ray. "What are you talking about? What do you mean?"
"It's a joke," Carrie said.
"If that's your idea of humor, honey, it's not funny."
"Really," Carrie said. "So sorry. Everyone else seems to think it was hysterical. Now, if you don't mind removing yourself from my boyfriend's lap…"
"You shouldn't have said that," Mr. Big said. He got up and walked away.
"Shit," Carrie said.
Carrie kept drinking and smoking pot until she could hardly walk. Then, back at their house, she went into the bathroom and threw up and lay on the floor. She threw up again and Mr. Big came in and tried to hold her head, and she said, "Don't touch me."
It was a cold, clear night. Stanford Blatch wandered in and out among the private planes in the Aspen airport. He passed the Learjets and the Gulfstreams, the Citations and the Challengers. As he passed each one, he touched the tail numbers.
She Started Crying
"I'm not stupid, you know," Mr. Big said. They were sitting in first class. Going back.
Mr. Big took out his paperback book and said, "You know, I'm actually very perceptive."
"Uh-huh," Carrie said. "How's the book?"
"Not much gets by me."
"Of course not," Carrie said. "That's why you make so much money."
"I'm aware of all kinds of things going on under the surface," Mr. Big said. "And I know you liked that guy."
Carrie took a sip of her drink. "Mmm-mm," she said. "What guy?"
"You know. Tyler."
"Tyler?" Carrie said. "I though he was nice."
"You liked him."
Carrie pretended to read. "I liked him as a friend."
"I was there. It would be better if you didn't lie," he said.
"O.K.," Carrie said. "I was attracted to him. A little bit," and as soon as she said it she realized it was a mistake, she hadn't really been attracted to him at all.
"I'm a grown-up," Mr. Big said. He put down his book and crossed his legs. He took out a magazine from the pocket in front of him. "I can take it. It doesn't hurt me. Go back to him and live with him. In his fort. You can live in a fort and shoot bow and arrows."
"I don't want to live in a fort," Carrie said. She started crying. She cried into her hand with her head turned toward the window. "Why are you doing this?" she asked. "You're trying to get rid of me. You're making all this stuff up in your head so you can get rid of me."
"You said you were attracted to him."
"A little bit," Carrie hissed. "And only because you made me say it. I knew this was going to happen." She sobbed. "As soon as we saw him, I knew you were going to think that I liked him. I never would have even thought of liking him, if you didn't act like you thought I did. So then I have to spend the whole time acting like I don't like him, so you don't get upset, and the stupid thing is that I don't even like him. At all."
"I don't believe you," Mr. Big said.
"It's the truth. Oh, Jesus," Carrie said. She turned away and cried a little more and then she leaned over and whispered loudly in his ear. "I'm totally crazy about you and you know it. It isn't fair, you acting like this."
Mr. Big patted her hand. "Don't worry about it," he said.
"Now I'm mad," Carrie said
They'd been back in New York two days when Carrie got a call from Samantha Jones. "Sooo," Samantha said.
"Sooo what?" Carrie asked.
"Anything big happen in Aspen?" she asked, in this creepy cooing voice.
"Like what?" Carrie asked.
"I was convinced you were going to come back engaged."
"Noooo," Carrie said. She leaned back in her chair and put her feet up on the desk. "Why on earth would you think that?"
Candace Bushnell began Sex and the City as a column in The New York Observer in 1994; it subsequently became a book and a series on HBO. She is also the author of Four Blondes, Trading Up and Lipstick Jungle, which is being filmed as a pilot for NBC starring Brooke Shields. Ms. Bushnell is also the host of Sex, Success and Sensibility, a live weekly talk show on Sirius Satellite Radio. She lives in Manhattan with her husband, New York City Ballet principal dancer Charles Askegard.