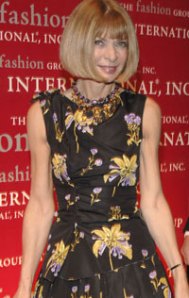 Guests arriving for Fashion Group International's Night of Stars—the rag trade's Golden Globes—at Cipriani 42nd Street on Thursday, Oct. 25, were treated to the familiar sight of Vogue editor at large Andre Leon Talley and singer-actress Jennifer Hudson vamping it up for photographers near the entrance. Mr. Leon Talley was resplendent in a red Valentino couture floor-length cape with matching red tie, and the svelte Ms. Hudson wore a slinky, haltered glittery number by Carmen Marc Valvo.
Inside, near the bar, Vogue editor at large Hamish Bowles chatted with pony-tailed model Coco Rocha; other guests included model Linda Evangelista and the actresses Tilda Swinton, Jane Krakowski and Lauren Bacall.
Philanthropist Sandy Weill took the stage, presenting the "Humanitarian" award to lingerie designer and longtime friend Josie Natori. Mr. Weill recalled visiting Ms. Natori's showroom back in the day. "I learned so much about undergarments and bustiers, which has served me well these last 20 years or so. I think that's humanitarian."
The event was emceed by The Observer's own Simon Doonan (see page C1 for his take on award ceremonies). Designer Jean Paul Gaultier, there to receive a "Superstar" award, "has become something of a Mother Teresa figure in the Parisian green scene," he quipped. Dr. Patricia Wexler, honored as a "Beauty Rule-Breaker," had been "recycling for years—taking fat from here and putting here. Pat, do I have your word that you will continue this important work?"
Later, designer Carolina Herrera, in a regal black dress and sparkly earrings, presented the prize to Dr. Wexler, "my friend and my doctor." Barneys fashion director Julie Gilhart presented another to Tomas Maier of Bottega Veneta, whom she described as "private" and "low-key" and "on his way to creating the single best luxury house in the world." Mr. Maier, speaking for a restrained 30 seconds, received hearty cheers.
Then, out of nowhere appeared Vogue editor in chief Anna Wintour, in a floor-length floral gown by Prada with gold jewels around her neck. She was there to present the "Corporate Visionary" award to Barneys chairman Howard Socol, whom she said has "an unrivaled green thumb when it comes to growing companies."
Other honorees included designers Alber Elbaz of Lanvin, Trent Reznor doppelgänger Rick Owens and Hussein Chalayan. "I'm wearing Hussein. I'm sitting with Hussein. And I love Hussein," said Estee Lauder model Liya Kebede. "He's a poet, and artistic, and all that stuff."