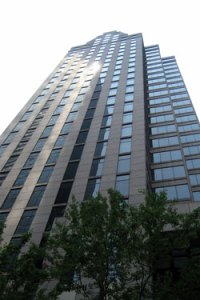 Slowly but surely, by ones and twos, towers are coming back on the block and testing this uneasy market. Sure, financing deals are tough to come by, but for those that can swing it, Manhattan towers are out there again.
Deutsche Bank has placed its former midtown headquarters at 31 West 52nd Street on the block. The 30-story, 660,000-square-foot tower, built in 1986, is smack in between the CBS tower on Sixth Avenue and 666 Fifth Avenue, and across the street from the MoMA.
The question is how much can they get for it? A spokesman for Deutsche Bank wouldn't comment and neither would a representative from its broker, Jones Lang LaSalle.
Ask real estate insiders and the answers are widespread: the columnist Michael Stoler said it could fetch $1,500 a foot; an insider told The Observer it would be closer to $1,000; another said it would be even less.
One would think it's a safe bet for at least $700 million, so why the discrepancies? Well, for a tower in an absurdly prime location, $1,500 would have made sense three months ago. But now there are serious questions about whether the market can still reach that level.
Even more pointedly, one real estate broker speculated that the building is full of lease arrangements that aren't well structured and would mean tiny returns for a landlord in the first few years of ownership. The spokesman for Deutsche Bank wouldn't comment on any details of the building.