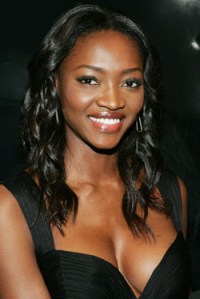 New York's residential real estate market would be in profound trouble if incredibly beautiful women, the kind that get paid handsomely to skulk down catwalks, didn't buy up gobs of apartments.
According to city records, the Nigerian-born supermodel Oluchi Onweagba just bought a two-bedroom apartment at the new 10 West End Avenue condo, near Lincoln Center. She closed last month for $1,708,500.
Yet only this February her husband, Luca Orlandi, the Luca Luca designer, bought a Gramercy House penthouse for $3.345 million. So she'll rent out 10 West End: "It's a second passion I have, outside of modeling," Ms. Onweagba told The Observer. "Basically, what I do is invest in apartments."
"I'm a model slash real estate blah-blah-blah," she said, unable to utter the un-exotic slogan "landlady." She already rents out a two-bedroom at the Park Imperial (it goes for between $7,500 and $9,000 monthly, ditto 10 West End), and will price a two-bedroom apartment at the new 101 Warren Street around $11,500.
Plus, her studio at Jade Jagger's eponymous condo in the Flatiron will rent for around $3,250 a month. "I think models and students will be interested," she said. Those would be well-roofed students.
But her new Upper West Side condo and even her Gramercy penthouse at East 22nd are north of her fellow models. For example, the large-eyebrowed Hilary Rhoda, just 20 years old, bought a duplex at 21 Astor Place this summer, city deeds show, paying $2,077,500.
And as The Observer has reported this year, Filippa Hamilton paid $2.395 million for a duplex in West SoHo; Nicole Trunfio and Jessica Gomes both bought on model-magnet Prince Street; and Gemma Ward, who made the Forbes list of top-paid supermodels along with Ms. Rhoda, paid $1.5 million for a three-unit place in the East Village.
"Areas in downtown tend to be too busy, you can't really be yourself; lots of fashion people are down there," Ms. Onweagba said. She doesn't want to wonder, "'Am I going to run into a hair stylist or a makeup artist?' I want to be myself, and live like every other human being." On the other hand, other human beings don't have Sports Illustrated swimsuit spreads.
More mundanely, she's graduating from New York University next year, she said, with a Bachelor of Science in leadership and management.