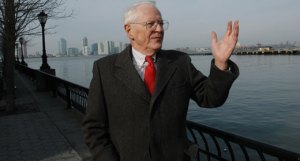 In the 1970's, the prospect of filling in a corner of New York Harbor for apartment and office towers was so ambitious and poorly timed that Battery Park City nearly defaulted before it even opened. But the neighborhood has since rebounded so robustly that it has become an embarrassment of riches.
It spends more per acre to take care of its parkland than is spent on just about any other city park. Its apartments rent above market rates. And it has given birth to some of the city's—and even the world's—first green-certified residential high-rises.
Its treasury is so well stocked, in fact, that the community, which is regularly ridiculed for its seclusion on the far side of West Street, regularly funds nonprofit organizations throughout the five boroughs and well into the suburbs. These are not contributions made voluntarily by residents and tenants, but instead are general revenues distributed by the Battery Park City Authority's seven-member board, or its staff, from fees and assessments that developers and occupants must pay.
According to data obtained by a Freedom of Information Act request, these contributions come to about $900,000 annually. Over the past two years, for example, the Battery Park City Authority donated $7,000 to the Queens Library Foundation; $10,000 to the American Institute of Architects; $20,500 to the New York State chapter of the National Association of Minority Contractors; $10,000 to the Chinatown YMCA; and $10,000 to the Greater Jamaica Development Corporation.
Giving away public funds to nonprofits is a time-honored tradition in this republic among city councils and state legislatures as well as public authorities. Some people even affectionately call it pork.
But, on Oct. 9, Attorney General Andrew Cuomo criticized the charitable giving of one public corporation in an opinion that could affect every other authority throughout the state. The Long Island Power Authority, Mr. Cuomo wrote, "is not authorized to make payments to business, civic and not-for-profit entities that do not directly relate to LIPA's mission. …"
Battery Park City Authority has taken another look at its giving, although it has yet to propose changes.
"We are not in a position to comment on the opinion. We are still analyzing it," the authority's president, James E. Cavanaugh, told The Observer. "We are obviously going to comply. Our initial take is that we are in substantial compliance."
Assembly Member Richard Brodsky, a Westchester Democrat, questions why public authorities—whose board members are usually appointed by the governor instead of being elected—are giving away the public's money.
"These are not set up to enhance the charitable infrastructure of the state," Mr. Brodsky said. "They are set up to run ports and run subway systems and run roads. A pattern has emerged in some places where the choices are relatively arbitrary choices. It helps to know a board member, for instance."
Some of these nonprofits do know Battery Park City Authority board members, although officials deny those ties play any role in funding decisions. Historic Hudson Valley, a self-described "museum of historic sites" in Westchester and Dutchess counties, received $19,000 over the past two years. One of its board members is Charles Urstadt, the vice chairman of the Battery Park City Authority.
Another $20,500 over the same period went to the Borough of Manhattan Community College Foundation. One member of the foundation's board is Leticia Remauro, a vice president at the Battery Park City Authority and the person most responsible for determining the authority's discretionary giving. The community college foundation's chairman is Robert Mueller, a Battery Park City Authority board member.
TO DETERMINE WHETHER the Battery Park City Authority's giving practices, which date back at least a decade, are legitimate requires a clear idea of what the institution's mission really is. Its 1968 enabling legislation said that the authority was supposed to improve a "blighted area"—some of which was so blighted, one might add, that it was underwater. So the authority was created to borrow money, pour landfill into the river and then lease properties on its 92 acres to developers for apartments and offices. This "major new residential and commercial community," Governor Nelson Rockefeller said in his signing statement, would contribute to the city's budget 30 times the tax and rental income the dilapidated waterfront was then paying.
In 1986, an amendment to the original legislation entreated the authority to "promote the employment of minority group members and women" on Battery Park City contracts. In addition, in 2000, the authority's board (which then consisted of three members appointed by the governor, and now has seven), passed a resolution calling for all subsequent development to be environmentally friendly.