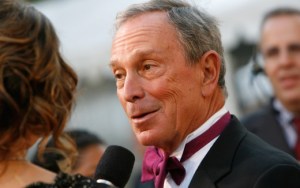 Awards were given out at the Americans for the Arts 2007 National Arts Awards last night, and speeches were made. Sitting down for dinner in Cipriani 42nd Street's massive main hall, guests dressed in black-tie attire-Jeff Koons among them-were surrounded by billboard-sized cloth screens covered with images of Andy Warhol's iconic poppies. Warhol was the official featured artist of the evening.
Honorees included Wallis Annenberg, Ellsworth Kelly, Anna Deavere Smith, and, as a sort-of wrinkle-reducer, the musician John Legend.
Also on hand were Ronald Lauder, Jessye Norman, C. Terry Lewis, Mayor David Dinkins and Jeffrey Sachs. Yoko Ono was jet-lagged, but she made it, too.
Mayor Michael Bloomberg arrived minutes before he was to go on stage, while people were picking at their first course. He said:
"New York City is indeed the cultural capital, and anybody who doesn't think so, I'll be happy to meet them out back. Although they may have to deal with our lawyers and a couple professional boxers. Anyways, I can talk about the 500 art galleries that we have in this city, or the 330 dance companies, or the 150 museums, or the 96 orchestras, not to mention Fantasia! Who knows what Fantasia is? Fantasia is the amazing seventeen-foot Burmese python at the Brooklyn Children's Museum. I'm sure our cultural affairs commissioner Kate Levin would be happy if I did all of that, mentioned all of those things. But tonight is really about the honorees.
"First, congratulations to all of them, including all of my colleagues at the United States Conference of Mayors, who do great work not just in the arts but in areas like education, affordable housing and particularly in fighting the scourge of illegal guns on our streets.
"I would, of course, be remiss if I didn't mention that the 106th mayor of the City of New York is sitting right down in front of me. And the reason I mention that is, take a rare look at him, there he is in his tuxedo as opposed to in his normal tennis outfit! It is a rare night for Mr. Dinkins.
"Americans for the Arts is a great organization with a simple message: art asked for more. And we all know how that works, and tonight here is somebody who has been asked for a lot more, a lot more actually each time she has given. Wallis Annenberg is one of our nation's most influential philanthropists. I might also point out that she is one of the most engaging women that this country has. She is a wonderful woman. She is the arts patron of the Arts Foundation and her leadership has made a huge difference in such areas as education, social justice and the environment, and equally important, she had me over to dinner the last time I was in Los Angeles and I can tell you the chicken was wonderful. And if I don't say nice things about Wallis, I won't get invited back.
"Seriously, tonight we honor Wallis for all her contributions to the arts. She has taken her father's philanthropic legacy and expanded it westward and strengthened a thriving cultural community in southern California, and at the same time, her advocacy and generosity is still felt here in the East.
"A long time supporter of the Museum of Modern Art, she recently became active on its board, where she works very closely with another great philanthropist, Aggie Gund. Aggie, where are you? Aggie is here tonight. Another great philanthropist, Vartan Gregorian is here. If anybody needs any money, the Carnegie Foundation has plenty of it. Just give him a call. Seriously, the Annenbergs have continued to serve a wide range of cultural institutions in our city, and that's why we were pleased to honor the foundation with a Mayor's Award for Arts and Culture in 2005. And Wallis's passion for the arts and arts education really is second-to-none, but don't just take it from me, so we brought in some friends with the miracle of technology. Just watch the screen…"