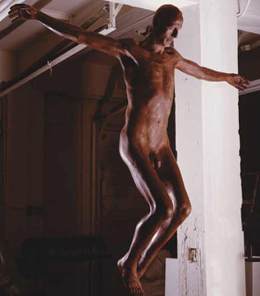 From today's Daily News:
A controversial chocolate Christ is rising from the dead at a Chelsea art gallery.
Artist Cosimo Cavallaro's 6-foot Jesus, scuttled six months ago when it sparked a Catholic uproar, is being resurrected this month at the Proposition Gallery on West 22nd Street.
"I have to complete what I started," Cavallaro, 46, said yesterday.
The show, running from Oct. 27 to Nov. 24, will not only feature the anatomically-correct candy version of the Lord, it will include eight smaller saints.
"When you set sail and a storm comes and breaks your ship, you go back to rebuilding and start again," Cavallaro said.