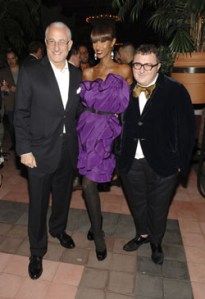 "How many sissies does it take to get a girl ready for a night on the town?" said Iman rhetorically, referring to the bevy of creative types whose joint efforts prepared her for a nocturnal sortie on Wednesday, Oct. 24. As usual, the sissies had all outdone themselves: clad in her purple/fuchsia Lanvin cocktail confection, the ageless Mrs. David Bowie looked like an exotic Somalian orchid.
This particular sissy's role was to escort the Somalian orchid from her downtown abode to the Barneys party at the Bowery Hotel, which she was hosting in honor of Howard Socol, my boss, and Alber Elbaz, the genius behind the house of Lanvin. The occasion? Both of these deserving blokes had won awards.
Awards! Awards! Awards! The fall in Manhattan has become one long awards ceremony. Instead of counting sheep at night, I just count Lucite obelisks. This season I have presented (two weeks ago I gave Lucky editor-in-chief Kim France her FFANY for Journalistic Excellence from the Fashion Footwear Association of New York). I have hosted, I have even seen venerable old geezers speaking into their awards because they mistook them for microphones. Those of you who were lucky enough to attend the Cooper-Hewitt Design Awards two weeks ago will know exactly who I'm talking about.
O.K., I admit it, I'm jealous. No, not because I never win any awards. Au contraire. In my time I have won ALL OF THEM. I even won an award from the American Psychiatric Association for a window display depicting Sigmund Freud! My problem is that I won them all at the wrong time. I shot my award wad way too early, and now it's too late.
At some point in the last century, back before the world became hypnotized by the red-carpet culture of the Oscars, I, Simon Doonan, had my awards moment. First, there was that GLAAD Award. Ah! I remember it so well! The ceremony began. My name was called. I was the first honoree. Oblivious to any award-show protocol, I walked to the foot of the stage—back to the audience—and stared up at my presenter, à la Oliver Twist. Tired of being gawped at, my presenter reached OVER the lectern and handed me a kicky little plaque. Without having uttered a single word of thanks, I returned to my seat. All the subsequent awardees mounted the stage and made long weepy speeches, thereby giving the impression that I must be some kind of idiot/mute/new arrival on the planet.
Not long after this I won the now defunct Woolmark Award. Ah! I remember it well, and so, surely, must Sandra Bernhard. La Bernhard, the hilarious Mizrahi-gowned M.C. of the evening, made history by publicly addressing Ralph Lauren by his original surname and referring to him as "an urban Jewish cowboy, riding off into the sunset," etc., etc. This did not go over so well. The fallout was, in fact, quite massive. Sponsorships were subsequently withdrawn and the Woolmark Awards never took place again.
Like my Woolmark Award, many of the engraved tchotchkes on my awards shelf celebrate my contribution to the art of window dressing. Of particular note is my giant faux-granite construction that resembles the tombstone of a silent movie star. I recall the ceremony so vividly, especially the moment when my presenter stumbled and dropped the aforementioned tombstone. The horrified crowd stared at the resultant rubble as if this signified some kind of bad omen. It did: A replacement award was fabricated and delivered to me a few months later.
The "Oscar" of my award collection is definitely my CFDA award, acquired, like my others, before the current awards-mania really set in. Oh, that night! It's as if it were yesterday! During the ceremony my presenter, Martha Stewart, asked to be introduced to my parents; I gulped and realized I had forgotten to mention it to Terry and Betty Doonan at all, let alone drag them over from Northern Ireland to witness the majesty. Guilt-stricken, I vowed to make it up to them. On my next trip to Belfast I brought along a record of the evening taped on VHS. I had clawed my way to the middle, and I wanted them to bear witness to my demi-apotheosis. We found a room in a local hotel that had a tape player and checked in for the afternoon. I ordered room service—scones and tea for three—popped in the tape and commenced my chirpy, name-droppy commentary: "There's me with Donatella Versace and Bette Midler—ooh, look there's Yves Saint Laurent!" Halfway through the ceremony I became aware of a horrid growling noise. At first I assumed it was the Irish VCR machine grinding its gears and munching on my tape. Then I looked around and saw that my parents were both fast asleep … and snoring!
I had a similarly paralyzing effect on Jennifer Hudson at the Fashion Group International Awards at Cipriani last Thursday night. From my position at the Lucite lectern—I won this award not long after the Second World War and now act as regular M.C.—I had a clear view of Ms. Hudson's drooping eyelids in the front row.
In Ms. Hudson's defense, it must be said that the speeches were not exactly what you would call "tight." Jean Paul Gaultier and superstar dermatologist Pat Wexler—mazel tov, Pat! Your skin-care products are BEYOND, and you looked totally fabulous in your couture Herrera!—both elected to take us through their respective childhood Barbie doll collections in real time. Adorable architect Calvin Tsao took us through awardee Zaha Hadid's avant-garde muumuu collection, gusset by gusset, and then announced to the shocked crowd of glamour-pusses and sissies that the great Hadid was a no-show. Apparently, she was having a tête-à-tête with the president of Egypt, a place where, one assumes, sissies never receive any awards.
Androgynous goddess Tilda Swinton—she's here in the U.S. filming a Coen brothers movie with George Clooney and Brad Pitt—showed that a well-turned phrase and a nifty outfit are all you really need. Ditto Howard Socol—mazel tov, Howie! And thanks for continuing to employ this sissy. Then Alber Elbaz: When he stepped up to get his award from Tilda, Monsieur Elbaz was ready with an apt quotation: "Success is like perfume," he said, as if speaking to all award recipients everywhere, "inhale it and you feel fabulous. Drink it and you will die."
I have been attempting, without success, to Google an attribution to this gem. Am assuming it's some French sissy or other. A Lucite obelisk awaits the reader who sends me the correct answer.