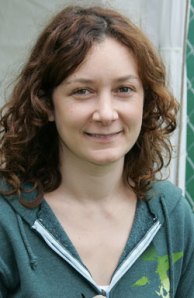 MONDAY
Darlene's back! Well, sort of. It didn't take long for The Big Bang Theory (CBS, 8:30 p.m.) to reunite its star Johnny Galecki with former Roseanne co-star Sara Gilbert. The erstwhile awkward TV lovers have been reunited as … awkward lovers! And just in the nick of time. The show is only several episodes old and the flustered interplay between the two supergeeks and their hot next-door neighbor, Penny, was getting a little stale. This week, they attend Penny's Halloween party. Let's hope Dar—ahem—Leslie is there to add a little spice. Halle Berry attempts the same on Inside the Actor's Studio (Bravo, 8 p.m.). Watch to hear James Lipton exclaim, "Make me feel good."
TUESDAY
The 47th Democratic National Debate (MSNBC, 9 p.m.) of the 2008 presidential election airs tonight. Will Barack Obama make good on his promise to The Times to hold Hillary's feet to the flames? Will Hillary show up hungover from a weeklong birthday bender? Will John Edwards appear on stage with his wife in a desperate bid for attention? What will Joe Biden say? What will Dennis Kucinich extract from his pockets? Who knows? Who cares? Brian Williams moderates. (Can't someone at NBC get him on a show with good ratings?) If you really want to watch something you feel like you've seen a million times, check out It's the Great Pumpkin, Charlie Brown (NBC, 8 p.m.). Or watch the Spurs annihilate the Oden-less Trail Blazers in the NBA season opener (TNT, 8 p.m.).
WEDNESDAY
It's rare that one ever recommends NY1 for much besides its "Weather on the Ones" feature (or the in-house favorite, "In the Papers,") but it's Halloween, and every yar the station broadcasts live from the Greenwich Village Halloween parade (8 p.m.). The newsgeek anchors get all Matt and Katie on this thing just like it was the Thanksgiving Day Parade on the Today show … Also, NBC airs two hours of Phenomenon (8 p.m.) and E! will provide The 20 Most Horrifying Hollywood Murders (8 p.m.) for your viewing pleasure. Pushing Daisies (ABC, 8 p.m.), which just got nine episodes added to its season, may be enough in the spirit of the occasion for us.
THURSDAY
Just when you thought it was safe to trust NBC's Thursday night line-up, they go and switch it up again. This time My Name Is Earl (8 p.m.) gets the 1-hour treatment at the expense of 30 Rock, which had just gotten on a roll post Seinfeld appearance. In anticipation of your funny quotient not being met by the subpar Earl, Monty Python's Personal Best (WNET, 10 p.m.), featuring John Cleese's favorite skits, will do its best to pick up the slack. Regis Philbin and Clay Aiken star on Are You Smarter Than a 5th Grader? (Fox, 8 p.m.), the only show we know of with a title that announces upfront that watching is a losing proposition. Grey's Anatomy (ABC, 9 p.m.) seems to have gotten off to an especially good start! The new addition, Dr. Hahn—Burke's replacement—just might keep the momentum going. SPOILER ALERT: rumor—or is it just wishful thinking?—is that she and Sandra Oh's character, whom people think Hahn negged (insulted as flirtation) on the last episode, get it on. Here's hoping!
FRIDAY
The Isiah Thomas-led Knicks try to turn around a moribund franchise with the help of new addition Zach Randolph tonight in their season opener against Lebron James' Cavaliers (MSG, 8 p.m.). If, however, you're a seasoned Knicks fan and are looking to avoid a depressing Friday night, look no further than the Meerkat Manor (ANIMAL, 8:30 p.m.) finale. We're picturing an onion-rings closing scene.