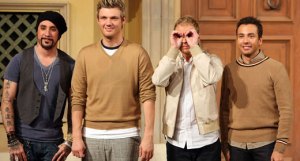 Today will make things look like babies, rehab, and the Pearlman Ponzi scheme never happened, as new albums from Britney Spears and The Backstreet Boys hit stores. Unbreakable is the first Backstreet Boys album without original band member Kevin Richardson who, over a year ago, decided "to move on to the next chapter" of his life. Blackout, Britney Spears' latest, proves that she has failed to. But that won't stop fans from eating it up. Her dance moves at this year's MTV Music Awards may have been less than stellar, but the single, "Gimme More," was extremely catchy—and remarkably honest. Can we expect the same from the Backstreet Boys? Probably not. Edge: Britney.
It took Arrested Development three years, five months, and two days to get a record contract to release their first album in 1992. The album, appropriately called 3 Years, 5 Months, and 2 Days in the Life of … introduced white college kids everywhere to rap and to Mr. Wendal (Remember him?). It's taken more than 10 years to get out their follow-up to their sophomore effort Zingalamaduni, Since the Last Time. It's not going to be so easy this time around—there aren't a bunch of pushovers like the Spin Doctors to compete for airtime. But they understand what they'll need to succeed: their first single is titled "Miracles."
The Eagles team up with rock vanguards Wal-Mart and Sam's Club to distribute their first full-length studio album in 28 years, The Long Road Out of Eden. No word yet whether they're going to sell them in bulk—buy nine, get the 10th free! They'll make great stocking stuffers for the kids.
Richard Lloyd may not be the most famous guitarist to emerge from the legendary proto-punk band Television, nor the one with the most successful solo career—both of those honors it is safe to say go to Tom Verlaine—but he's giving Tom a run for his money as the craziest. Radiant Monkey is his first studio work in seven years and it comes complete with its own philosophy. An excerpt: "Man has reached a cul-de-sac—a dead-end, where he mistakes technological progress with emotional maturity. Men are like lemmings who are headed for a cliff from which there is no return. Mankind has all the animals within him—his inner self is a zoo, and the cataclysm is near. Man is a swine; he shits where he eats and unless he works upon himself for the benefit of all mankind he is doomed." Uh-oh.
And if all of these albums are a bit too commercial for you, feel free to check out Charalambides' newest, Likeness. Released by Kranky Records, it features all of the psychedelic folk rock that you've come to know and love from the Austin—by way of Houston—duo.