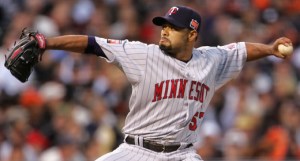 As has been argued in this space, the Mets can put themselves in a position to win next season with a few meaningful, if not flashy, moves this winter. Signing middle reliever David Riske would solidify the bullpen, for example, but is unlikely to earn headlines from the Daily News or the Post (provided they can resist the endless possibilities his name provides).
But this isn't to say there aren't some potential blockbusters out there that would improve the Mets significantly for 2008. There are three in particular that may or may not not be possible, but would certainly be spectacular.
Move One: trade for Johan Santana.
He is unquestionably the best pitcher of the past four seasons. He doesn't turn 29 until March of 2008. His contract is up following the 2008 season, and it is highly unlikely that Minnesota can afford him. The Twins might well take their chances on one more run with Santana before he hits the free agent market.
If they don't, the Mets would be in position to trade for him. Few teams could offer the major league-ready talent of Lastings Milledge, who could take over for free agent Torii Hunter in center field, Ruben Gotay, who could play second for the Twins, Mike Pelfrey and Philip Humber, who would both challenge for rotation spots. If those four aren't enough, include Carlos Gomez.
While a Santana would draw intense interest from every team in baseball, the Mets should do what it takes to top these offers. Santana is as sure a bet as there is. He is on the right side of 30, he has been dominant for years, his peripheral statistics are steady and spectacular, and he even pitched out of the bullpen during his early twenties, saving his arm from the abuse that often ends a career early (think Steve Avery). And he's put up these numbers in the American League—he'd likely improve statistically in the NL.
One caveat—to give up this much talent, the Mets will need to make certain that they get a 72-hour window to sign Santana to a long-term deal. Once they do, price must be no object. Paying a premium for the best pitcher in baseball will not come back to harm you. Just ask the Red Sox if they regret trading their two best pitching prospects for Pedro Martinez, then holding onto him for seven years.
The deal likely will clean the Mets out of trading chips for any other improvement, and Milledge is poised to become a star as soon as next season. With Gomez either in the deal or needing another season at AAA, the Mets would need to sign Jose Guillen or Bobby Abreu to patch right field for 2008. Ideally, Gomez would take over in left for 2009, while Guillen (the preferred choice) could last in right until 18-year-old prospect Fernando Martinez could take the reins.
Such contingencies are worth dealing with if Santana comes to the Mets. A dominating presence with Pedro Martinez would make the Mets formidable in the regular season and nearly unbeatable in a short series. And Santana would match with Oliver Perez and John Maine to provide the Mets with a fantastic starting pitching foundation to pair with Jose Reyes and David Wright for years to come.
Move Two: sign Alex Rodriguez, move David Wright to second base.
Rodriguez is unquestionably the best player in baseball this season. And he is a 3-for-20 ALDS away from being run out of the Bronx. He was raised a Mets fan, and the Mets have more money than virtually anyone else besides the Yankees. David Wright is even on record saying he'd change positions to accommodate A-Rod.
If it calls for $30 million a year for eight years, take that extra revenue from the playoff appearances it all but guarantees and put that towards his salary. The revenue generated as Rodriguez chases Bonds won't hurt the Mets, either.
Wright, meanwhile, who has shown fantastic range at third base, would easily make the move to second. And his major defensive flaw, the throw across the diamond, would be eliminated. He's turning 25—there's no reason to think he can't learn a new position at this point. Any defensive hit taken relative to Luis Castillo would be made up by the improvement at 3B offensively (Rodriguez had an OPS 105 points higher than Wright) and at 2B (Wright was 219 points ahead of Castillo).