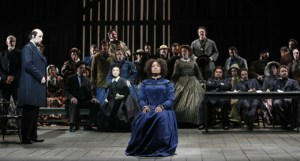 Princeton, N.J., is well known for its university, but it's acquiring a different reputation in the opera world—as the country's classiest libretto shop. Back in the 90's, the brilliant poet Paul Muldoon supplied dazzlingly intricate librettos for the lyrical, eclectic art brut of Daron Hagen. More recently, another Princeton great, Toni Morrison, teamed up with the ardently neo-romantic composer Richard Danielpour to create a work for Michigan Opera Theater.
The result was Margaret Garner, which had its New York premiere at City Opera's opening night on Sept. 11. It's the best new opera that Lincoln Center has heard in quite a while.
It might not have turned out this way. Ms. Morrison's star power is incandescent, but she is not an experienced librettist, and her subject matter—which also served as the back story for her novel Beloved—could easily have invited a sensationalist treatment. Garner, an historical figure, was a slave in antebellum Kentucky who, during a botched escape attempt, decided to kill her 2-year-old daughter rather than let her be returned to a life of bondage. An operatic version of the complex and mysterious Beloved would have been a mess, but Ms. Morrison's libretto, thankfully, offers a far more straightforward treatment of the story.
Ms. Morrison puts lofty, gorgeous sentences in the mouths of her uneducated slaves, but those words never sound forced or inappropriate. And Mr. Danielpour, a composer long derided for the over-the-top emotionalism of his scores (he once wrote a symphony that set texts from the self-help tome A Course in Miracles), has finally found a subject commensurate with his ambitions. His arias may have "applause cues," but they often deserve them: The best, "A Quality Love," lingered in my mind for days afterward.
The fine performances surely helped. Tracie Luck and Gregg Baker were commanding in the roles of Margaret and Robert, her husband; Joel Sorensen lent a ringing tenor and a sadistic demeanor to Casey, the plantation foreman. The best of all was Lisa Daltirus, as Cilla, Robert's mother: She may have sung the role of a frail old woman, but she magnified that woman's spirit with richly detailed acting and a soprano voice of arching power. The orchestra, under George Manahan, played with devotion and style.
"ENGROSSING" IS NOT AN ADJECTIVE YOU you would necessarily associate with Donizetti's Lucia di Lammermoor, one of the great audience favorites of the bel canto repertoire. Enthralling, perhaps, entertaining, yes, but even the finest performances aim simply to please the ear and the heart.
Well, Mary Zimmerman, the Chicago theater doyenne to whom Peter Gelb entrusted the opening-night production at the Metropolitan Opera (on Sept. 24), had different ideas. Her Lucia not only brought the action up to the mid-19th century of Donizetti's day, but made the experience into something the Met has never seen before: an absorbing stage play that also happened to have great music, sung by a formidable cast.
At first I gave credit to James Levine's evenly paced tempos. But Act II revealed Ms. Zimmerman's imagination at full power. Lucia (Natalie Dessay) and her brother Enrico (Mariusz Kwiecien) move about their Scottish baronial hall with deceptive ease, remaking a scene "from life" as only a pair of seasoned actors can. And then, snap!—the action reaches a crisis, as he forces her to marry against her will, and we're swept away. The normal suspension of disbelief that opera demands—people don't sing in real life—was extraneous and unnecessary.
The Wedding Scene, which followed, was something magical. Its sextet is, of course, magnificent with the singers just standing still. But Ms. Zimmerman had the principals, the chorus, and the supernumeraries (as soldiers and domestics) create a captivating web of movement that culminated in a tableau of an old-time wedding photograph, complete with exploding flash. Instead of weakening the mood, she intensified it, teaching an operatic audience what theater people have always known: There are no small roles.
The big roles were filled with singers of substance. Ms. Dessay started the opera in a cautious, even fragile manner, but by the Act III Mad Scene she was a force of emotion, movement and cool, pure tone. Marcello Giordani, as Edgardo, has a tenor of true Italianate tinge, even if some of his phrases were rather bumpy in the delivery. Mr. Kwiecien's broadsword baritone was a zealous companion to his potent acting; this young singer is now every bit a star.
Russell Platt is a composer and a music editor at The New Yorker.