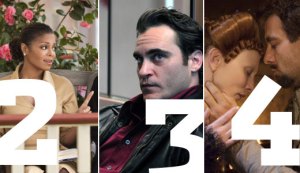 One had to know that George Clooney wasn't going to settle for fourth place—not in this town! Michael Clayton (No. 1) expanded from 2 theaters into 9 and nabbed the top spot on this week's Manhattan box office chart. The film, which is in its second week, managed to outgross Tyler Perry's Why Did Get Married? (No. 2). That appeared to be its only victory over the romantic drama, which almost doubled Clayton's receipts nationally at 500 less theaters.
The success of Married marks the third time—in four tries!—that Mr. Perry has opened a film at number 1. It would have likely stood atop the Manhattan box office charts if not for the fact that Clayton was playing on one more theater. Married averaged $36,000 to Clayton's $34,000. Lions Gate has deftly capitalized on Mr. Perry's immense popularity with black audiences. They're now looking for some crossover success. Not a bad start.
We Own The Night (No. 3), the action picture starring Mark Wahlberg and Joaquin Phoenix, and Elizabeth: The Golden Age (No. 4), with Cate Blanchett in the title role, both managed decent, but underwhelming numbers, averaging roughly $25,000 a piece. This is no mere coincidence: both films have that haven't we seen this before? No, seriously. Did they really think the Amercian public could discern the difference between the "Virgin Queen" and her "Golden Age"? Well, at least those who do know will be able to own a nice box set.
The Darjeeling Limited (No. 5) slipped two spots, but managed a modest 23 percent decline in total gross, while The Heartbreak Kid (No. 6) must have broken a few hearts of its own, as it slipped to number 6 from the top spot, dropping over 50 percent of its opening weekend gross.
Notably absent from this week's top 10 is Control, the hotly buzzed about film about British band Joy Division. Film Forum dedicated 2 screens to the awards contender, but alas it couldn't overcome Across the Universe (No. 10) in its fifth week at 7 theaters. It truly is an unknown pleasure! I have a feeling, though, that this one will be sticking around.
List of theaters: Paris, Zeigfeld, Oprheum, East 85th St., 86th St. East, 84th St., Lincoln Plaza, 62nd and Broadway, Lincoln Square, Magic Johnson, 72nd St East, Cinemas 1, 2 &3rd Ave, 64th and 2nd , Imaginasian, Manhattan Twin, First and 62nd St., Angelika Film Center, Quad, IFC Center, Film Forum, Village East, Village Seven, Cinema Village, Union Square, Essex, Battery Park 11, Sunshine, 34th Street, Empire, E-Walk, Chelsea, 19th Street East, and Kips Bay.
Manhattan Weekend Box Office: How moviegoers in the multiplexes of middle America choose to spend their ten-spot is probably a big deal in Hollywood. But here in Manhattan, the hottest movies aren't always the ones making the big bucks nationwide. Using Nielsen numbers for Manhattan theaters alone and comparing them to the performance of the national weekend box office can tell you a lot about our Blue State sensibilities. Or nothing at all! Each Monday afternoon, we will bring you the results.