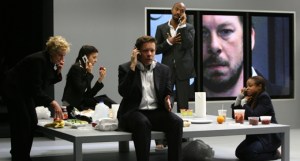 The acclaimed avant-garde director Ivo van Hove has come up with an unusual attempt to invigorate Molière's 17th-century masterpiece The Misanthrope: He's thrown garbage at it.
The garbage scene comes when the furious antihero Alceste—a man who looks back in anger at everything—is having another explosive quarrel with the object of his obsessive desire, tarty, 20-year-old Célimène. (It's one of the play's great jokes that Alceste believes in absolute truth and falls for someone who never tells it.) Mr. van Hove has the two battling protagonists continue to argue as they storm up the aisle of the theater and out onto the street, followed by a video camera.
The action is simulcast on a screen that dominates the ultra-modern stage set. It's Candid Camera meets The Misanthrope. The argument between Alceste and Célimène continued on East Fourth Street; bemused passers-by strolled over to watch them fighting in Molière's verse. They didn't seem to think it unusual.
It was fun, anyway. But when Alceste impetuously grabbed some plastic bags of garbage off the street and headed back into the theater, we thought, "Uh-oh. Here he goes again."
He'd already had a gross-out food fight earlier in the evening when he nose-dived into the buffet table at a swish dinner party. The dinner was attended by Célimène and various Voguette socialites yammering on their cellphones—the contemporary stand-ins for Molière's shallow Parisian society.
When Alceste goes on to dump the bags of garbage all over the set and dive into that, too, it's nothing compared to the food fight when he wrecked the joint and stood triumphantly on the table to slather himself with whipped cream, pizza and chocolate syrup—finishing it all off by smashing a watermelon over his head and pouring ketchup down his pants accompanied by a weenie without a bun.
It all seemed excitingly new to the young, delighted audience at the New York Theatre Workshop—and it was new to Molière—but as they say in Paris, France, plus ça change, plus c'est la même shows.
Mr. van Hove's orgies of garbage and junk food were known as improvised Happenings in 1960's theater. Happenings were usually accompanied by naked group sex, time permitting. Not here, alas—though Alceste (the outstanding, and heroic, Bill Camp) and Célimène (the outstandingly energetic Jeanine Serralles) simulate carnal desire as they skitter across the floor locked together like two scorpions in the desert.
"There's no escape," goes Tony Harrison's interpolated line in his translation of the play. "These are the antics of 'The Naked Ape.'" The reference to Desmond Morris' 1967 work of pop sociobiology, The Naked Ape, dates the script (and the Happenings). There's no nuance in the production, and little enough poetry. The Flemish director never understates anything he does. As is the von Hove style, his actors are encouraged to SHOUT LIKE THIS TO REVEAL PASSION OR CHAGRIN.
The thing about the von Hove garbage, though, is that it's clean garbage. It should smell, it should stink up the theater. But it's sanitized, like this apparently outrageous production.
There are reminders here of the director's Hedda Gabler (2004), his previous deconstructionist outing at the Workshop. His thoroughly modern Hedda lounged about her chic downtown loft in her knickers, and horny Judge Brack dribbled a can of V-8 juice over her body. It's still remembered by some admirers who hailed the production and its erotic symbolism.
That Ibsen's Hedda Gabler is about sexual and social repression wasn't news—just as it's no secret that The Misanthrope is centrally about hypocrisy and one man's farcically uncompromising honest heart. But sex isn't what Hedda wants; it's ownership. And The Misanthrope isn't about grossness; Molière's misanthropic hero can't be defined by the sensationalism of a disgusting food fight and a wallow in garbage.
The director is saying, I guess, that Alceste thinks life itself is like, well, garbage. It's a simplistic interpretation, to say the least. Where's Molière in all this?
I think he left.
Look at what Molière wrote. Here's Alceste's diplomatic friend, Philinte, making a case for pragmatic tolerance: "But in society (if we belong that is)/ we must conform to the civilities."