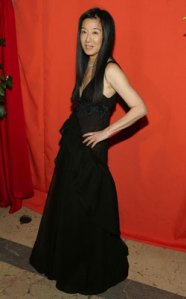 This is a tough town. Sons talk back to their mothers, wives sleep with their husbands' trainers, and family members charge each other steeply for family apartments.
When those apartments are at an impossible-to-get-into building like 740 Park, the prices can go into eight digits.
Vera Wang, the 58-year-old designer famous for swirling, lacey wedding gowns, has paid $23.1 million to the estate of her late father Cheng Ching Wang, the Beijing-born businessman who funded her fashion empire.
The designer has said that her dad, who himself was the son of a war minister under Chiang Kai-shek, didn't always want to support her label. Apparently, he also didn't want to simply give her the family's massive 10th-floor Park Avenue duplex.
"It makes perfect sense to me," said Michael Gross, who published a gossipy biography on the building in 2005. "You don't inherit something like this—in some families, people inherit assets of that size; in other families they are arms-length transactions, whereby the buyer pays the value of the apartment."
According to his book, Mr. Wang and his wife, Florence, paid $350,000 for the duplex in 1983, buying from soup heiress Elinor Dorrance. That's the New York City way: You buy for six digits, then sell to your daughter for eight. (The New York Post reported this summer that Ms. Wang would be moving into her late parents' 740 sprawl, but it wasn't clear she'd be paying anything.)
Along with her father's estate, Ms. Wang and her brother Kenneth are listed as sellers in the city records filed on Tuesday, so it's not clear where the $23 million will go. The attorney Martin Shenkman, an estates expert, said it's common for the heir that lives in the family apartment to pay for it, so that the second heir will get his share of its value. "We've done situations like this," he said, "where we've given the kids the chance to buy the property if one of them wants it."
And expensive family deals at 740 Park aren't unheard of. Seven years ago, downstairs neighbor Carol Lederman sold her duplex to her nephew Steven Mnuchin for $10.5 million. "Just because you're selling to a relative," Mr. Gross wrote, "doesn't mean you can't make a couple bucks."