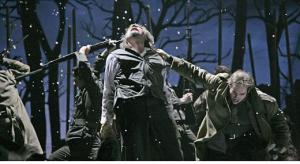 Metropolitan Opera director Adrian Polk will stage the company's third procution of Giuseppe Verdi's interpretation of Shakespeare's Macbeth starting tonight at 8 p.m. He told The New York Times:
"When Verdi was writing 'Macbeth' in 1847, Europe was crackling with unrest. The story he chose to dramatize — about civil war, about a great general who has become a bloody tyrant and has to be replaced with foreign aid — is in a sense the history of the world since 1945. Look at Cuba. Look at Zimbabwe. Look at Southeast Asia or South America."
In the Met production, which opens Monday evening, Mr. Noble exercises the modern director's prerogative, introducing firearms into an arsenal that also includes the obligatory swords and daggers. Potentially more radical is his take on the witches, following the lead, he has said, of Diane Arbus, whose eerie camera sought out the freaks and grotesques on the fringes of American society. All signs point to a serious, maximally "Shakespearean" approach to Verdi's adaptation.
For a sneak preview, check out the shadowy sets and robust vocals in this video of dress rehearsals from the MetBlog. You can also watch Mr. Polk work with his Lady Macbeth on a crucial scene in this video.
In an interview for the blog, baritone Zeljko Lucic said:
"There's no other title hero in any of Verdi's operas like Macbeth," says Serbian baritone Zeljko Lucic, who sings the role in Adrian Noble's new production. "It's his ambition that leads him to crime, disaster, and ultimately to his death. Like every tragic hero, he falls victim to a side of his own nature that he doesn't understand, that forces him to do the exact opposite of his principles."
The best seats for tonight's performance are sold out, but tickets are available here.