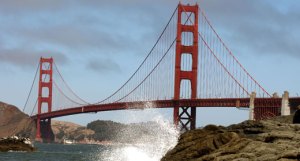 It's shorthand now that New York has the nation's most expensive housing. But that shorthand usually takes only Manhattan into its account. Expanded to the metro region, New York actually finishes behind a chunk of California in a recent run of the nation's most expensive housing markets.
A report (PDF) published by Radar Logic Inc. and authored by Jonathan Miller shows the New York metro region finishing behind four California metro regions in average home prices per square foot: (in descending order) San Jose, San Francisco, Los Angeles and San Diego.
New York's per-square-foot average of $302.76 puts it $163 behind San Jose and nearly $150 behind our oft-cited housing rival San Francisco.
The report reflects the housing markets as they were in July, and includes statistics from 25 metro areas.
Take Manhattan away from the New York City shorthand (or, rather, add the metro area to Manhattan), and the city, while expensive, remains, shall we say, competitively so. Especially considering wages and incomes tend to be higher here, thanks to the concentration of financial services firms. (The per-square-foot sales average for Manhattan housing alone was $1,144, according to Mr. Miller.)
Basically, in the report, it was New York and the California areas and then everybody else when it came to sales price: No other metro areas cracked $300 a square foot, and the report notes that "the largest gains over the past year [from July 2006 to July 2007] tended to be in technology centers, including Seattle, Charlotte, New York and San Francisco."
Charlotte and Seattle joined New York, along with Philadelphia and Jacksonville, in the top five metro areas in per-square-foot price increases over two years. New York was also among the top five metro areas with the greatest yearly gains in condo prices per foot.
Again, though, stacked against the gains in other areas–including Chicago and Milwaukee, of all places—New York housing finds itself in a relatively unfamiliar position: not quite No. 1.