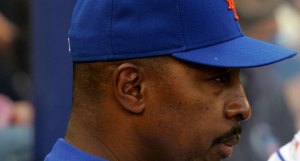 After the loss to the Marlins that ended the Mets season, Willie Randolph spoke to his team and cried.
"I told my players this is a life lesson in baseball and in how to become champions," Randolph said to reporters afterwards. "And when you get to that road you have to seize it because you never know when it's going to come again."
The speech Randolph gave his team was a rare one. His attitude during a disastrous 5-12 run over the season's final 17 games was to reaffirm his faith in his players publicly, and to let them play without any undue managerial interference.
"For me, I don't want to change anything," he told the Observer last Sunday. "I just have to be myself, really. And that's really all I have."
Meanwhile, his players were describing themselves as complacent and bored.
The Mets had a 7 game lead with 17 games to play and their collapse stands with those of the 1951 Dodgers, the 1964 Phillies, the 1978 Red Sox and the 1995 Angels as baseball's all-time worst.
The managers for three of those teams—Chuck Dressen, Don Zimmer and Marcel Lachemann, respectively—were let go within two years of the respective meltdowns. The Phillies' manager, Gene Mauch, never saw the playoffs again with that team.
General Manager Omar Minaya praised Randolph to reporters yesterday afternoon, but stopped short of saying that the manager's job was safe. "I owe it to ownership to sit down and talk to them," Minaya said to ESPN.
A media relations official for the Mets said yesterday that the Mets would not issue a statement regarding Randolph's job status.
"Any time you have an opportunity to finish the deal and don't capitalize on it," said Randolph yesterday, "it will come back to haunt you."