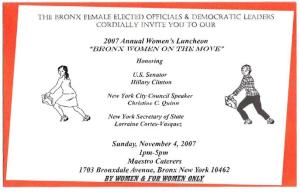 Here's an invitation for a November 4th event in the Bronx featuring Hillary Clinton. It's the 2007 Annual Women's Luncheon, which will honor Clinton, City Council Speaker Christine Quinn and New York Secretary of State Lorraine Cortes-Vasquez.
But if you're thinking of attending, please note the little detail at the bottom:
It is "By Women & For Women Only."
The people over at the New York State Real Estate Lawyer's Blog, who had this first, feel like they're snubbed. They wrote:
"It was an invitation from the Bronx Democratic County Committee. (But, in actuality, it was a 'dis-invitation.')"
I won't go that far, although it does seem to go against the grain of that strategy Hank Sheinkopf outlined about about courting the male vote.