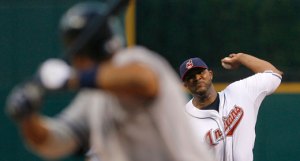 With runners at first and second and one out, already leading 1-0, the script must have seemed familiar to the Yankees, who are used to jumping all over pitchers.
But they don't often face pitchers the caliber of C.C. Sabathia, who struck out Jorge Posada, and induced a weak groundout from Hideki Matsui.
The Yankees have not had a pitcher as effective as Sabathia for quite some time—a period of time, incidentally, that coincides with their postseason drought. And their ability to reach a different result in 2007 will be to overcome two pitchers better than any they possess.
Sabathia posted a 3.21 ERA in 2007. No Yankee pitcher has managed an ERA lower than 3.50 since 2003—none have bested Sabathia's 2007 since Mike Mussina's 2001 season.
The Cleveland ace also struck out 209 batters in 2007. Only Randy Johnson in 2005 has topped the 200-strikeout mark for the Yankees since 2001.
In fact, since 2004, opponents of the Yankees have fielded eight pitchers below 3.50 ERA or more than 200 strikeouts.
The Yankees have had two ways of dealing with this level of pitcher. One is by simply overpowering that pitcher—the Yankees didn't score 968 runs in 2007 against mediocrities alone. And the other is making them work, leading to early exits.
The Yankees certainly accomplished the latter, waiting out six walks from a pitcher who'd allowed 37 all season. The extra pitches pushed Sabathia's count up to 115.
But he was just too good on this night to be overpowered, repeating his first inning sequence in the fifth with the bases loaded and one out by striking out Posada, then popping up Matsui.
Unfortunately for the Yankees, the Indians were able to go to Rafael Perez–he of the 1.78 ERA and .145 batting average against from lefties–who shut them down in the sixth and seventh, striking out four. Jensen Lewis and Rafael Betancourt, two middle options the Yankees could certainly use, finished the game. The Indians rested closer Joe Borowski and his 5.07 ERA—whether this will help them or not remains to be seen.
Chien-Ming Wang, meanwhile, came up short in the half-innings following both of Sabathia's stands. In the first inning, he allowed three runs, including two on a hit from Kenny Lofton, just three months removed from seconding Gary Sheffield's claiming separate and unequal treatment for black players under Joe Torre.
Then in the fifth, he allowed a two-run home run to Victor Martinez on one of his many sinkers that didn't, then a bloop double, and another RBI single from Lofton, chasing Wang from the game.
And unlike Cleveland, Ross Ohlendorf failed to stop the bleeding. He did show the ability to give up two-out RBI hits to Kenny Lofton at least as well as Wang, but this is not the "pitching like an ace" the Yankees had in mind. By the time Jose Veras was summoned to relieve Ohlendorf, the deficit was 11-3.
Wang has simply not pitched like an ace on the road in his career, with a 4.62 ERA career, including 4.91 in 2007, away from the Bronx cheers. But Torre's other choices for Game 1 were Andy Pettitte, who struggled in September, the injury-riddled Roger Clemens, and Mike Mussina and his 5.72 second-half ERA. And his best emergency option, Philip Hughes, threw 31 pitches—he'd now be pitching in relief of Roger Clemens Sunday on two days rest.
Cleveland, meanwhile, comes to Game 2 with Fausto Carmona—who has 19 wins and a 3.06 ERA.
Against a Cleveland team that scored 811 runs, certainly it is likely that the Yankees will need to score some runs to win the series. And if they continue to get this kind of pitching out of their staff, even that won't be enough.