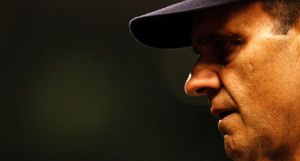 Joe Torre has rejected a one-year contract offer with a second-year option to return as Yankees manager, according to team president Randy Levine.
The contract called for a base salary of $5 million, with $1 million for each additional round of the playoffs won by the Yankees in 2008, according to Levine.
The second-year option would have vested if the Yankees reached the World Series in 2008.
"It is now time for the New York Yankees to move forward," Levine said.