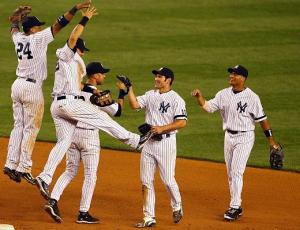 The Yankees saved their skins—and by some accounts, their manager Joe Torre—when they rallied past a two-run deficit and Roger Clemens' injured hamstring to beat the Cleveland Indians last night at Yankee Stadium 8 to 4.
Johnny Damon, who put the Yankees to sleep three Octobers ago with a grand slam as a Red Sox leadoff hitter, woke up the masses with a three-run homer that shook the Stadium and escorted the Yankees to an emotionally charged 8-4 victory in Game 3 that was witnessed by 56,358 delirious fans.
Asked on the way to his car if Torre saved his job with the victory, Steinbrenner answered, "What?"
"There is a lot on the line," said Damon, who finished 3-for-4 with four RBIs. "We are playing for our manager that we love."