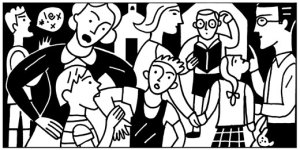 LOS ANGELES—They have kids, they have concerns, they come to me for counsel.
I have no wife, no kids and a B.A. in history from a party school.
Of late, my Los Angeles friends are breeding as if the future of the human race depends on it, and boy are they stressed. Being a bad parent here, or even an "okay, but not great" parent, carries the stain of being an "okay, but not great" airline pilot. My friends need someone to turn to.
Lucky for them, I've met so many children—literally dozens—I can write a book on parenting. But instead of exploiting their angst by writing Parenting Tips From a Childless Man, I just dish out advice. Pro bono. Business is booming.
Case Study No. 1:
A. meets me for lunch. Turns out, her 3-year-old is biting kids in preschool. The staff, who are referred to as "teachers," call A. at home with the bad news. Sometimes the calls come twice a week, which tells me her kid's fine three days a week, but I listen as if this a real problem. The teachers, A. reports, say biting compensates for slightly lagging verbal skills.
I blame the teachers and suggest pre-boarding school, saying that shipping the problem far away would not only help her child, but would free us up for going to the movies like we used to. A. nixes the idea. She can't send her daughter away. It would be incredibly cruel/expensive.
I expected this response and scale back: "Okay, tell your child if she bites another kid, you'll take her voice off the outgoing message on the family answering machine."
Really, it's not so idiotic that parents consult me when faced with problem children. I'm not a competitor in the game and parenting is nothing if not a competition. One neonate cries three times a night. Another twice. A third sleeps through the night, wakes up at 11, eats and spaces out. We have a winner.
With no child of my own goosing their insecurities, parents can count on me for discreet, unbiased, nearly informed advice. If their 6-year-old is a little tardy on reading skills, I won't say, "Really? [My kid] read One Hundred Years of Solitude at 5 and not only grasped the whole book but felt it could have easily been cut to eight years of solitude."
Instead, I diagnose the problem from a litany of stuff I heard about somewhere: attention deficit, dyslexia, attention surplus, hyperactivity, bad fonts. Then I add encouragement: "Don't worry, the beauty of modern child-rearing is that no kids are just plain stupid anymore." Thus reassured, a segue can be made to the kind of adult conversations I used to have with these people, say, seven years ago.
The strange thing about parenting is that for such a perennially overpopulated field, there are no true icons. No Parenting Hall of Fame, no Babe Ruth of fatherhood, no Mother Teresa of motherhood. Here and there I see couples who seem to be doing a good job. The Clintons deserve credit. Derek Jeter's parents can feel pretty good. But with no universal role models, parents look anywhere for guidance. My door is always open because, from what I hear, the children are our future.
Of course, there is the perception that, as a nonparent, I'm the one not quite eating at the adult table. Maybe he can relate to children. After all …
But that's not the case. Other than the disproportionate amount of time spent sleeping, I cannot relate to children. But unlike parents, I can gain knowledge by reading, watching TV and leaving my home. Also unlike parents, I can observe kids like a sociologist as opposed to watching them like a hawk. Thanks to these advantages, I devised two overarching philosophies of parenting: 1. No one cares about anyone else's kids. 2. Don't let children change you or your life.
Case Study No. 2:
While we walk our dogs, B. tells me his 6-year-old "curses like Dick Cheney."
Knowing B.'s fluency with expletives, I ask, "Is it your fault?"
"Oh yeah."