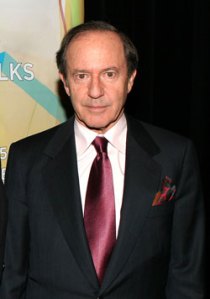 The law firm Gibson Dunn is in the final stage of wrapping up a 200,000-square-foot lease for the tower floors of a planned Eighth Avenue skyscraper, a source said.
Gibson Dunn would be the first tenant for the 38-story, 900,000-square-foot tower, at the corner of 55th street, that is being developed by Mort Zuckerman's Boston Properties and Madison Equities. If Mr. Zuckerman can get the lease finalized, it would be a bold coup at a time when so many law firms and financial companies are putting real estate plans on hold.
The way the lease is designed right now, Gibson Dunn wouldn't have naming rights to the tower, but the terms of the deals can change, including the square footage, a source said. With the move, the Los Angeles–based law firm would pack up its New York operation at the MetLife Building at 200 Park Avenue.
"I think like any firm around we're looking west and there is a lot of developing going on on Eighth Avenue," said Gibson Dunn partner Steven Shoemate. "We've certainly thought about it, but at this point we have four years left on our lease at 200 Park and we're committed to that."
For now. As the firm moves closer to signing a lease at the new tower, rents on Eighth Avenue should be a discount from Park Avenue—let alone 200 Park—where average office rents are the highest in Manhattan. A source familiar with the terms of the deal would not name the rent at the new tower, but indicated it was above $100 per foot.
While this lease gets finalized, some brokers around the city are scratching their heads. "I don't understand what they're doing," said one major Manhattan broker. "It seems like Gibson Dunn only signs at the top of the market."
No doubt, we're at the top of the market right now. With rent growth slowing and with the economy fluctuating, some firms are backing out of deals to watch where the rental market goes. The Cushman & Wakefield broker John Cefaly said at a press briefing two weeks ago that there's so much uncertainty among financial firms that Bear Stearns recently pulled out of a deal at 237 Park Avenue and Lehman Brothers backed off a deal at 399 Park.
No matter to Gibson Dunn.
"We don't go to great lengths to time the rental market," said Mr. Shoemate. "I don't think we're that good at that—we practice law."
One broker sniped that it's hard for Gibson Dunn to get a good read on the market when the firm has the dubious industry distinction of constantly switching brokers. The firm's current broker is Lewis Miller of CB Richard Ellis, but in 2004 when it signed on to an extra floor at 200 Park, its broker was Tara Stacom of Cushman & Wakefield. Before that, in 1997, it was represented by Henry Goodfriend and James de Jong, according to a story in Real Estate Weekly, and Robert Emden—now of PBS Real Estate—brokered its first deal at 200 Park in the late 80's.
If this lease with Mr. Zuckerman gets signed, let's see if Mr. Miller will want to—or will be asked to—stay around.