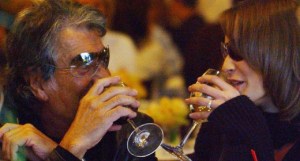 Now that his H&M line has successfully launched, fashion designer Roberto Cavalli can really get down to snubbing his day job, lending him more time to host parties—like the one he held last weekend at his villa near Florence. (This gathering took place a few months after he feted model-socialite Lydia Hearst in the same digs and only weeks after he threw an even bigger Halloween bash at Cipriani 42nd Street.) But as it happens, Mr. Cavalli apparently has no plans to trade in his workaday schedule for a life of leisure.
He merely means to combine the two. His villa party, after all, was in honor of his latest project, Cavalli Selection and Cavalli Collection–a line of wines that boasts "blends of Merlot, Cabernet Franc, Cabernet Sauvignon, Petit Verdot and Alicante Bouchet. The grapes are grown at the family estate in Tuscany's Chianti, the 70-acre Tenuta degli Dei." Mr. Cavalli's son, Tommaso, will reportedly oversee the blotto venture.
Countering his dry Cabernet Sauvignon with something decidedly sweet, the stylish dud maker told WWD, "Tommaso never asked me for anything in his life and wanted to give the name of the territory to the wine…He's the true idealist….He didn't want to take advantage of my name, but it's taken me 40 years to build my brand — why not make reference to it to promote the wine?" The fashion-forward drinkables, whose bottles proudly bare Mr. Cavalli senior's signature animal prints, have been in the making for eight years. But anyone eager to nab one of the first 5,000 bottles from 2004 will have to book a flight to Tuscany, where they will be exclusively distributed until additional markets are added in the spring. Hic!
Cavalli's Chianti [WWD]