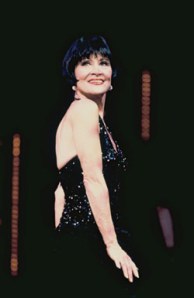 CHITA RIVERA
Feinstein's at the Regency
540 Park Avenue
212-339-4095
Through Nov. 24
Chita!
Need I say more? Like Liza, Madonna and Cher, one name is all you need. I mean, you can't say "Rivera." Someone might think you mean Geraldo. And besides, nothing and nobody lights up the face of Broadway in the dark like the word Chita. It has always been so synonymous with show-business glitter, glamour and grit that I'm sure when she was still in Puerto Rican rompers, there was rhythm in her nursery rhymes. So get yourself over to Loews Regency where she is making a rare, socko appearance at Feinstein's through Nov. 24. It's worth the inflated cab fare.
Ms. Rivera says she's been dancing so long that she's got lines in her face and pins in her knees, but I didn't see any lines, and despite the fact that the first words out of her mouth after she sails onstage to thunderous applause are "I Won't Dance (How Could I?)," the woman lies. She dances like a stage full of Bob Fosse chorus girls in double time. The repertoire runs the autobiographical gamut from the three hookers in Seventh Heaven, "Camille, Colette, Fifi" (she plays all three); to the evil queen in Merlin; the murderous Velma in Chicago; Gwen Verdon's sidekick, vamping "Big Spender," in Sweet Charity; Rosie in Bye Bye Birdie; and the show-stopping title role in Kiss of the Spider Woman. She's played a lot of different women, bonded with them all, and never done anything twice. You'll meet all of Chita's women here—especially the greatest one of all—herself! And you'll have a stupendous time doing it. If this sounds like she's throwing in the towel, forget it. Let her talk about being too old to cut the mustard; she's not only still cutting the mustard just fine, but the taco sauce, too. And the roles are still coming. One of the highlights of this show is "Love and Love Alone," a haunting ballad penned for her by her pals John Kander and the late Fred Ebb from the new musical The Visit, which still is slated for a Broadway production. The patter is sharp. The re-creation of her catastrophic audition for Leonard Bernstein on West Side Story, her reaction to the news that she was going to play Liza Minnelli's mother in The Rink and her opinion of Wayne Newton on "Dancing with the Stars" ("Not a pretty sight") bring down the house. Between the candor and the dish and the pure entertainment value, expect great songs. Everything she does has so much movement it seems choreographed by life. She doesn't have to dance at all, right?
Get a grip on your sanity. Chita without dance is Carnegie Hall without music. She shimmies, shivers and shakes even when she just stands there. Her kneecaps have a tempo of their own. She grabs a top hat and redefines the words vim, vigor and vitality. Her timing is thrilling. Her humor is embracing. And when she winds it all up with Carol Hall's gorgeous song "Circle of Friends," she makes you feel like you're included. She's not singing words, she's singing life, holding life close, raising a toast to experience, polish and craft. Chita Rivera leaves you swooning. When the show was over, in the line to the exit door, I saw a woman trying to do a soft shoe in a wheelchair.
MARILYN MAYE
The Metropolitan Room
34 West 22nd Street, between Fifth and Sixth Avenues
212-206-0440
Through Nov. 19
From Monroe to Manson, there may be many Marilyns, but there is only one Marilyn Maye. The cult figure is currently tearing up the Metropolitan Room, signifying one of the most triumphant comebacks of the decade. Forty years ago, when late-night blabber really meant something, she graced The Tonight Show With Johnny Carson 76 times, breaking the record for girl singers. Since she's singing better than ever, it makes sense to turn her current gig into a tribute, with clips and glib remarks about the man, the show, the songs and the gal who sang them better than anybody else—and still does. There she is, knocking the audience dead in Burbank, and here she is, throwing in "That's not a wig—just a bad hairdresser" and "I didn't know I was that cute, or I would have used it." She still hits the same high-altitude trumpet notes on "The Song is You"; she turns "Here's That Rainy Day" into "Stormy Weather"; and who else could work "Jingle Bells" into "Happiness Is a Thing Called Joe." She's got the chops, she makes you think of forgotten words like "craft" and she handles a room like a political candidate. From that glorious musical banquet before rock 'n' roll, she is the best leftover on the table. Do not miss Marilyn Maye. She the real deal worth fighting over, like Mrs. Astor's sapphires.