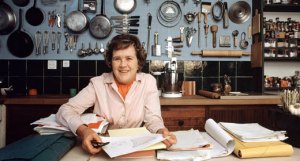 THE TENTH MUSE: MY LIFE IN FOOD
By Judith Jones
Alfred A. Knopf, 282 pages, $24.95
Since 1957, when Alfred Knopf lured her away from her job as a very junior editor-scout for Doubleday (prompted by her discovery of a book a Knopf editor had turned down, Anne Frank's Diary), Judith Jones has published such fiction heavyweights as William Maxwell, John Updike, Anne Tyler, John Hersey and Elizabeth Bowen. She has also, in her nearly unprecedented 50 years working at the same house, reshaped, refined and expanded the very concept of cookbooks, issuing landmark titles by Claudia Roden, Marcella Hazan, Madhur Jaffrey, Edna Lewis and Marion Cunningham.
Every good editor has one monument, whether real or imagined, by which she measures herself, either publicly or in private. In the case of Judith Jones, the Mont-St.-Michel of her publishing career has been Julia Child's incomparable and food-world-shattering Mastering the Art of French Cooking (1961). An unprecedented anatomy of and infallible guide to preparing supremely delicious food, Mastering was a massive and chaotic manuscript in crying need of discipline when it was rejected by Houghton Mifflin. ("[It is] a big, expensive cookbook of elaborate information and might well prove formidable to the American housewife. She might easily clip one of these recipes out of a magazine but be frightened by the book as a whole.") Ms. Jones saw its potential and spent the next several years helping to cut and shape the messy behemoth into the masterpiece we know. (She also renamed the book, which Julia Child had variously titled French Magicians in the Kitchen and French Cooking From the American Supermarket.) The book made Julia Child a star, revolutionized American kitchens and made Alfred Knopf even richer than he already was.
For Judith Jones, the result was just as spectacular. The time she had spent on the recipes confirmed her passion for food. And this is what her memoir is about.
The Tenth Muse is not an insider's account of delectably vicious publishing intrigue: Ms. Jones, the beautiful epitome of politesse, tells no tales out of school. The fiery birthing of books and recipes is rarely alluded to. John Updike and Anne Tyler are given the most cursory notice, mentioned only when she quotes from their books passages specifically about food. William Maxwell (who's about to be canonized in a two-volume Library of America set) is never mentioned at all, nor is the rapidly changing contemporary landscape of reading and bookselling. This is a book about tasting cheese, smelling the rich odors of ripe fruit, hearing the sounds of something sizzling in the pan. It's about good wines and the pleasures of the table, eating happily with friends, planning a garden in which to plant gooseberries, sorrel and leeks.
One of those lucky Americans whose whimsical jaunt to postwar Paris exploded a constrained life and changed everything, Ms. Jones changed everything for us, also, by helping us learn to taste. Delicious, elegant, subdued yet brimming with hidden passion, The Tenth Muse is a book to read sipping a glass of wine at the kitchen table as your pot of lamb curry, your leek and potato soup, your braised veal shank simmers gently on the stove.
André Bernard worked in publishing for 25 years. He's now vice president of the John Simon Guggenheim Memorial Foundation. He can be reached at books@observer.com.