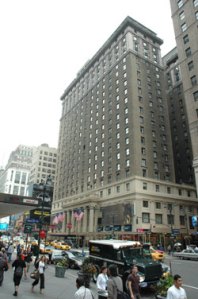 You knew it was over when several panelists started singing the old familiar melody to Glenn Miller's "Pennsylvania 6-5000."
A resolution to protect the historic Hotel Pennsylvania from demolition is on its way to the Landmarks Preservation Commission after local Community Board 5 voted 21 to 8 on Thursday night to preserve the circa-1919, 1,700-room hotel across from Madison Square Garden.
Member Howard Mendes called it "a vote of conscience." "You might not love every detail," he said of the McKim, Mead & White-designed building, "but it does qualify… as a landmark."
The resolution passed despite some panelists' criticisms that the building was "not up to McKim, Mead & White's best works," as well as concerns about negatively impacting the related redevelopment of the nearby Farley Post Office.
Started by a small band of computer hackers, the campaign to save the hotel was further bolstered by hotel employees and union members who, for the first time last night, publicly lashed out at owner Vornado Realty Trust's plan to convert the site into an office tower.
"It's time that billionaires like [Vornado CEO] Steven Roth learn that they can't do whatever they want, whenever they want — you can't just come in and destroy our hotel!" one bellman declared. "To say that we can't do nothing is garbage. We need to make the hotel landmarked."
Supporters compared the hotel to other endangered New York institutions such as Coney Island. One even suggested the hotel was more culturally significant today than Plymouth Rock: "Did Glenn Miller ever write a song called 'Plymouth Rock 1620?'"
Still, some give the resolution little chance of succeeding. Board member Joyce Matz, openly frustrated by prior unsuccessful preservation attempts, warned that the commission "will never designate it." She suggested Vornado itself must be persuaded to preserve the structure, which the company has previously likened to "a parking lot."