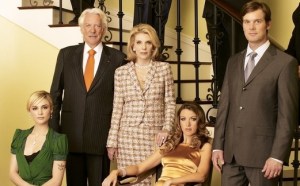 Speaking of Quarterlife, its star, Lolita Davidovich will play a recurring role on freshman ABC drama Dirty Sexy Money. The show has received a full-season pickup, according to The Hollywood Reporter. ABC launched the strongest slate of series this fall, including the top new drama "Private Practice," the top new comedy "Samantha Who?" and the best-reviewed new series "Pushing Daisies," all previously picked up for a full season.
On the ABC Studios-produced freshman drama, Davidovich will play Flavia Carazzi, an elegant, sexy administrator at a New York children's hospital who crosses paths with Nick (Peter Krause) and Tripp.
Davidovich will begin filming right away. "Money" is expected to shoot a couple more episodes with scripts banked from before the writers strike.