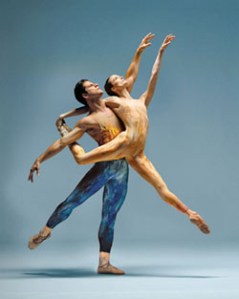 You can usually tell how healthy a ballet company is by the degree of your interest in the middle ranks of the dancers—the not-yet stars, the up-and-comers. With American Ballet Theatre, we get only one chance a year to take the company's temperature this way, since its long spring season at the Met is focused on full-evening classics (except when they're full-evening but far from classic) with the big drop-in names on hand to lure the tourist trade.
Every fall, though, for two weeks at the City Center, the hard-core dancers get to show off their stuff in a wide spread of oldies and newies. No Ananiashvili, Vishneva, Corella, Stiefel—like Fred in Roberta, they won't dance. And so we get to observe the season-in, season-out principals, plus the on-rushers, a number of them made soloists only a couple of months ago. Without these two weeks what would the newer dancers have to grow on, and how could we tell how they're progressing?
This was an especially successful fall for A.B.T. Yes, we had the inevitable return engagements of second-rate contemporary works: Stanton Welch's Clear (seven hyper, bare-chested boys—some of them, alas, sporting tattoos—showing off their pecs while dutifully hoisting one superfluous lady around; it's all like a bad Joffrey piece from the 60's) and Lar Lubovitch's Meadow, with its enigmatic title and enigmatic structure, which at least gave us another chance to appreciate Stella Abrera. Even in the semi-dark—which is where much of this tedious piece, like so many current ballets, is set—you could see how she continues to grow. (It didn't hurt her performance to have David Hallberg as her porteur.)
There were two new ballets, by two of the guys who have recently replaced Lubovitch and Welch as choreographers du jour. The predictable Jorma Elo was less kinetically overboard than usual, and more fancily conceptual, in C. to C. (That's "Close to Chuck," for Chuck Close, whose work provides the décor and the inspiration.) When you find that you're grateful for concept, you know things are in a bad way, but that's what too many doses of unmediated, thoughtless energy will do to you.
More interesting was Benjamin Millepied's From Here on Out, by far the best piece I've seen from this City Ballet dancer. The last one I encountered—a swollen bore at the Paris Opèra—was all concept. This new work is actually based on steps, and has a visible and viable structure. No wonder the dancers took to it—it's hard to dance to concept. Whether this piece represents a major step forward for Millepied, or whether he was particularly stimulated by the commissioned score from Nico Muhly—pulsing, dramatic—we won't know until we see what he comes up with next. The heartening thing is that Muhly's music has a beginning, a middle and an end, and Millepied listened to it intelligently. Fingers are crossed.
And we were served up two of the old A.B.T. standbys. Agnes de Mille's Fall River Legend (1948), the Lizzie Borden story on pointe, needs dancers of more dramatic impact than the company (and most other companies) can muster today, though Michele Wiles gave a subtle and convincing performance. All she needs now is more intensity at the big moments.
Fancy Free (1944), Jerome Robbins' first (and best?) ballet, holds up without strain. Brilliantly constructed, still charming after all these years, with its terrific Leonard Bernstein score and evocative Oliver Smith set, it's as close as you can get to a surefire audience-pleaser. Both casts I saw were excellent: In the showoff role, Herman Cornejo was more whiz-bang but less fully characterized than Craig Salstein; as the love-struck innocent, big blond David Hallberg was adorable if too insistently moony, Sasha Radetsky more intense but equally lovable; in the rumba variation, Marcelo Gomes was definitely more swivel-hipped (and funnier) than the milder, slyer Jose Manuel Carreño. Paloma Herrera has the first girl—the girl with the red pocketbook—down pat; Julie Kent is a touch too maternal these days for the second girl; Gillian Murphy is convincingly romantic. Fancy Free is out of a different era, but doesn't look it.
AT THE HEART of the season were three superb works by three modern masters, all composed within a four-year period in the late 70's—clearly a golden age, though who knew it then?
The company brought back, after too long an absence, Antony Tudor's The Leaves Are Fading, which he created in 1975 for Gelsey Kirkland. This is a look-back-in-nostalgia-to-early-love ballet, framed by a mature woman sauntering onstage at the beginning and the end, remembering how it was before the leaves faded. It uses nine women, five men, and a lead couple who, well into the action, join the others almost casually and are absorbed into the flowing patterns and lyrical lifts until their rhapsodic duet stands forth as the climax of the piece. Here Julie Kent had the advantage—her lovely serenity appropriate to the mood Tudor establishes—but at least Xiomara Reyes, second cast, didn't mug instead of dance. Leaves is not a great ballet, but it's masterfully put together and it's affecting, unless you're allergic to nostalgia. And it gives a number of distinguished dancers a lot of individual stuff to do. Wiles, for instance, was outstandingly vivid in the most intense of the secondary duets. (In the same role, Veronika Part did her usual Pola Negri impersonation.)
Balanchine's late Ballo della Regina was created on Merrill Ashley (who staged it here), unleashing her into the most brilliant allegro dancing anyone had ever seen—I still remember the gasps from the audience at the premiere at the State Theater in 1977. There's never been anyone like her: She not only was in full command of the devilish staccato steps Balanchine devised for her, she was actually ahead of the music!