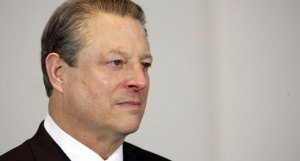 Al Gore will be taking an office downstairs from developer Douglas Durst, as his investment firm Generation Investment Management is planning a move from its Washington, D.C., offices to the Durst Organization's Bank of America Tower.
"It's just a decision that we've taken lately that the very best place for us to be positioned for our clients and our business is New York City," said Peter Knight, the president of the American operations of Generation Investment Management.
The firm, created in 2004 in a partnership between Mr. Gore and former Goldman Sachs CEO David Blood, manages equity in socially conscious investments, currently overseeing about $1.5 billion.
Their firm is small—its Web site says it employs 27 people—though Mr. Knight said it expects to grow in coming years. As such, they've agreed to take about 5,000 square feet in the tower at One Bryant Park, which is scheduled to open in 2008. The tower is seeking the environmentally prestigious LEED Platinum sustainability rating, which the Durst Organization says would be a first for a high-rise.
Generation Investment Management is based in London, and its U.S. offices have been based out of Washington since the company began.
"We think the nexus between London and New York is a powerful one for investing in global equities," Mr. Knight said.
The deal leaves Mr. Durst with just one floor to be leased in the tower—floor 37—as Generation Investment will take space on floor 48, which had not been advertised as available. Mr. Durst's office will be on floor 49, a Durst spokesman said.
Perhaps the entrance of Mr. Gore will provide the lure for a tenant to pay the high price for Mr. Durst's final floor, said to be asking about $185 a square foot.