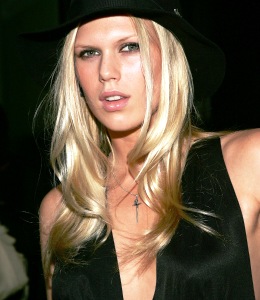 Alexandra Richards, daughter of Rolling Stones legend Keith Richards and onetime Calvin Klein model Patti Hansen, was DJing last night in front of fewer than 10 people at Bella's, where we last ran into her on Halloween.
It may come as little surprise that Ms. Richards, 21, credits her euphonious childhood home with her ability to feel out the mood of a crowd, spinning in a way that both responds to and enlivens the mood. "I get most of the music from my dad. I grew up around it, so I love playing it," she said, nodding and smiling.
Last night, after starting out with some welcoming reggae, she moved into an oldies set that, in its arrangement, felt surprisingly newfangled. Ms. Richards then finished up with a chain of cool-and-catchy indie tunes, which comprised a hefty sampling from her favorite bands du jour—"I'm obsessed with Arcade Fire, the Klaxons, LCD Soundsystem," she said. "I think there are a lot of great bands coming out, and I totally support all of them." She added that she has most recently fallen for a band out of Denton, Tex., called Midlake, whose song Young Bride she particularly loves.
Ms. Richards also paints. And she has an interesting method that works her love for music onto the canvas. "All my artwork is all based on a certain song I listen to. I paint to one song only. I repeat it over and over again. I just go at it. It doesn't necessarily have to be about the painting or like what I'm painting, but just that feeling, you know? You get that inside."
She and fellow DJ Nick Cohen have recently split, Ms. Richards said, but they remain good friends. "[Nick and his business partner, Seth Campbell] are doing really well, and they are now starting the women's shoe," she offered, referring to Mr. Cohen's line of flashy kicks that the Transom wrote about last June.
We asked her if she wants to make a full-time career out of either painting or DJing at clubs and parties. "I'm still young and I'm trying to figure that out—if I love my painting more than the music or the music more than the painting. But I think both go really well together," Ms. Richards said.
"Keep your eyes open," she added, "because I'm going to come out with some really great stuff."