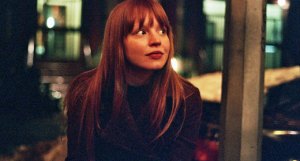 STARTING OUT IN THE EVENING
Running Time 111 minutes
Written and directed by Andrew Wagner
Starring Lauren Ambrose, Frank Langella, Lili Taylor
Excellent, deeply introspective performances by Frank Langella and the phenomenal Lauren Ambrose inform and enhance Starting Out in the Evening, a moody film by Andrew Wagner. Mr. Langella embodies the essence of the tweedy, pipe-smoking, leather-chair literary stratum of New York's Upper West Side: a once-celebrated author named Leonard Schiller, whose novels are all out of print and whose latest unfinished work has been resting in his typewriter, dormant from writer's block, for the past 10 years. Still locked in mourning for the dead wife who shared the highs and lows of his career for the major part of his adult life, he has retreated to the safe seclusion of an old-fashioned apartment where he blends perfectly with the worn carpets and dog-eared books. New York is a city where the past is often a nexus with the present, and you can choose to be whatever you want to be in the lifestyle of your own invention.
All Schiller wants is to be left alone to sort out the detritus of his life in the time he's got left and finish his novel without interference. His wishes are honored, for the most part, by his daughter Ariel (Lili Taylor), a 40-year-old Pilates instructor who has never married, and who desperately wants children and is still emotionally shattered by the breakup of her love affair with a man who doesn't. Schiller's affection for her is as muted as everything else in his life—a cautious source of disappointment to them both. If you need to reach out for a warm, reassuring hand to steady an uneasy passage through the hurdles of life, the Schiller house is not the place to do it.
Suddenly, his sanctum is invaded by one annoyance after another. Ariel accidentally reconnects with the black lover who left her five years earlier because of an unplanned pregnancy, rattling Schiller's faith in her strength. What he mistook for resourcefulness was really only loneliness. Schiller's solitude is further invaded by the arrival of a brilliant, ambitious graduate student named Heather Wolfe (Lauren Ambrose), who is doing a scholarly piece on Schiller's life and career for her master's thesis, secretly hoping to restore a recluse, in poor health and reluctant to cooperate, to his former exalted literary status (and get famous in the process). Despite his protests about being out of step with a contemporary publishing industry obsessed with dumb self-help books and celebrity tell-alls, Heather believes she can resurrect his reputation and bring him back from obscurity, like Lazarus from the dead. To his cynical amazement, their relationship—both personal and professional—builds, until Schiller finds himself drawn to his bright, challenging fan in more ways than one. The film and the performances are so restrained and elegant that when an act of unplanned emotional sensuality wrecks the suspended animation of Schiller's composure, you feel the explosive power in your bones of something called love.
As literate and gripping as it is, the dialogue in Starting Out in the Evening can be irritating:
"Maybe the characters in your books have the luxury of grappling with moral issues, but I'm in the real world."
"I want to be like Joan Didion, Joni Mitchell and Joan of Arc."
"I wouldn't be a writer, would I, if I wasn't blinded by optimism."
With lines like those, writer-director Wagner reaches too fervently for unnecessary color. The film works best when it trusts its characters to feel as well as speak. From Count Dracula to Richard Nixon, the versatile Mr. Langella has grown so appealingly as an actor that he can invest a dried-up writer-professor with both dignity and repressed longing, and when he finally finds his heart, he makes your hair stand on end. Ms. Ambrose, who commanded my attention for several seasons on Six Feet Under, is always a marvel. Pitting her hubris against his humility, her methods of seduction are clear, even if her motives are questionable; clearly besotted with a literary lion whose paws have weakened, the way she sharpens his claws alters their lives forever.
One caveat: This is another of those damp, dimly lit digital flicks that looks like nicotine and tar were smeared on the camera lens before each shot. The content is compelling and the performances truthful enough to make you overlook what essentially looks like a film made inside a broom closet, and that is high praise indeed.