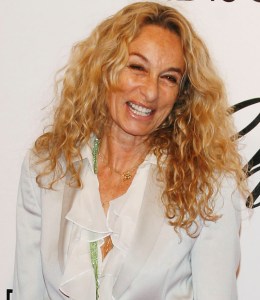 Ann Dexter-Jones isn't afraid of a little street meat (no, not the Boy George variety!) Last night, The Daily Transom chatted with the socialite at the meatpacking district nightclub STK (where she was celebrating her friend, fashion designer Tommy Hilfiger's new book), she was craving—gasp!—a hot dog.
"On the way here—I came from this Chopard, Elton John thing tonight—and on the way down in the car, I was thinking, If I see one of those Gray's Papayas, I really feel like a hot dog. I like the funky street vendor hot dogs." She was wearing a great beige pantsuit that would have made toppings perilous, though; and anyway she didn't get the opportunity. "There was no Gray's Papaya on the way down; the driver was in a hurry. But I walk in here and they have sliced hot dogs!" she said excitedly, referring to trays of sliced gourmet bratwurst being passed around the super-sleek event space.
Unpretentious, right? So how does Ms. Dexter-Jones navigate her perilously high-altitude New York social life? "How do I deal with pretension? I don't! I just cut to the chase and am attracted to talk to people who I feel comfortable with," she went on, "And everybody else can have a very good time having their own party in their own head."
After enduring a long legal battle, Ms. Dexter-Jones said she is relieved to finally be divorced from her ex-husband, Foreigner guitarist Mick Jones. "It took me four years, and I just got my divorce. I'm living at the Bowery Hotel, because I forgot to house hunt," she said in a boudoir-ish British-American rasp. "And I decided for once that I don't need seven bedrooms anymore, so I'm living at the Bowery. And it's pretty cool living in New York, in a hotel, with Olatz Schnabel sheets," she said.
In fact, Ms. Dexter-Jones said she digs the downtown scene so much, that she's looking to put down more permanent roots south of 14th Street. "What I want is, after [having] six floors, I want a lot of space and have fun with the people I love, but all on one floor. And I kind of want the Old-World great room, you know?" Yup. We're pretty sure we do.