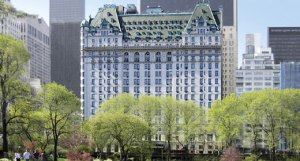 Unit 1301 at The Plaza has sold for $9,522,606.61, according to city records. It's the latest in a series of sales at the iconic hotel turned partly condo that have fallen in the roughly $10 million range.
At the tail end of summer, UNICEF ambassador Ann-Kathrin Linsenhoff bought a 14th-floor condo for $9,586,957. Russian banker Vladimir Stolyarenko bought a condo one floor up around the same time for $10,184,363.46. Also during the summer, espresso magnate Giuseppe De'Longhi paid $11.2 million for a condo on the same floor as Mr. Stolyarenko. The Observer's Max Abelson covered these buys here.
Then, late last month, Thomas and Kathy Mendoza, the namesakes for the Notre Dame business school, bought Unit 1015 in The Plaza for $9,026,113.59. Also in October, Jerry Moss, co-founder of A&M Records, paid $9,472,597.13 for an eighth-floor condo. And, finally, attorney Richard Rosenbaum of Scarsdale bought Unit 703 for $8,741,976, according to city records.
This latest $10 million-or-thereabouts purchase was by Michael M. McNamara and wife Deborah. Mr. McNamara is CEO of the vaguely otherworldly sounding Flextronics International, an electronics manufacturing services provider. We have a call out to Flextronics' offices.