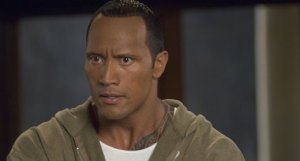 SOUTHLAND TALES
Running time 160 minutes
Written and directed by Richard Kelly
Starring Sarah Michelle Gellar, Dwayne Johnson
Richard Kelly's Southland Tales, from his own screenplay, can be described as a pre-apocalyptic fantasy set in Los Angeles in 2008. The two-sentence synopsis in the production notes tells us: "The city stands on the brink of social, economic and environmental disaster. Southland Tales is an epic story set over the course of three days that culminate in a massive 4th of July celebration." One can say that the recent fires in Southern California given massive coverage on every television news channel provide a ready-made apocalyptic déjà vu for a viewing of Southland Tales, a longer version of which was shown to a reportedly unappreciative audience at the 2006 Cannes Film Festival, long before the recent flame-up in California.
If I seem to be stalling for time, it is because I must eventually confess that the film made even less sense to me than Mr. Kelly's Donnie Darko, his 2001 debut with Jake Gyllenhaal, Drew Barrymore, James Duval, Maggie Gyllenhaal, Mary McDonnell, Holmes Osborne, Katherine Ross and Patrick Swayze, all in all, an awesome cast for a directorial debut. This perhaps at least partially explains the favored cult status the film enjoys to this day despite a universal rejection of the unsatisfactory ending.
Consequently, Mr. Kelly's problems with narrative logic are compounded in Southland Tales by its comparatively no-name, no-face cast vis à vis Donnie Darko. In this respect, among the high-billed performers, Sarah Michelle Gellar is vaguely familiar to me from the Buffy the Vampire Slayer series on television. Dwayne Johnson as the top lead has the kind of striking face he has inherited as The Rock in a series of films, but otherwise this densely populated motion picture is mostly a collection of blanks except for John Larroquette and Wallace Shawn as two of the evil, ruling-class villains. One of the film's many oddities is that there are hordes of female action characters, but almost no sex.
On the positive side are two clips of Robert Aldrich's 1955 doomsday classic, Kiss Me Deadly, transformed from a Mickey Spillane thriller by Mr. Aldrich and screenwriter A.I. Bezzerides into the first screen manifestation of a nuclear nightmare. The two clips are part of an early episode featuring the underappreciated Ralph Meeker and the as-yet-undiscovered Cloris Leachman. So I must at least credit Mr. Kelly with good taste in his choice of appropriate movie memories. But then anyone who can imagine a character in Donnie Darko proclaiming her ardent support for Michael Dukakis against George H. W. Bush in the 1998 presidential election has a great deal to recommend him politically.
As for the rest, I must single out the first cinematic display of two cars copulating as a demonstration of an infinitely renewable energy source. You have to see it to believe it, but I am not sure if it is worth your time. The plot, such as it is, deals with death and reincarnation, amnesia and identity theft on a grand scale, and a mini-nuclear-holocaust of sorts to start things off with a bang. I suspect that I am too old to appreciate the picture's pop illogic. Yet I did not find it at all depressing in as much as it roamed too far from any reality I could recognize. Hence, I can just write Southland Tales off as an example of a sophomore jinx encountered by radically experimental directors after their first effort proved to have more traction with audiences and critics than they had anticipated. Still, there is such a thing as being so radically experimental as to risk drifting into a deserved oblivion. But that's only one critic's opinion. Critics of one kind or another are indispensable for would be cinematic trailblazers. Certainly, the vast risk-averse public cannot be counted on to propel new artistic adventures in the medium.