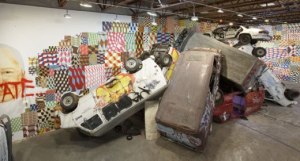 Should nonprofit art museums accept money from commercial galleries with a clear financial stake in the artist's career, and in some cases in the artworks on display? More generally, can the willingness of galleries to pony up subtly influence what a museum sets out to exhibit?
Jodi Finkel asked the tough questions in yesterday's New York Times:
Across from the museum the alternative arts center Redcat credits the New York gallery Deitch Projects as one of four sponsors of its graffiti-packed, street-smart installation by the San Francisco artist Barry McGee. The dealer Jeffrey Deitch and Redcat said the gallery contributed $15,000. And for the current Richard Prince retrospective at the Solomon R. Guggenheim Museum in New York, Larry Gagosian and Barbara Gladstone, Mr. Prince's Los Angeles and New York dealers, both wrote checks, the museum confirmed. Neither the dealers nor the museum disclosed the amounts.
Galleries have periodically, if quietly, financed exhibitions before; Sperone Westwater, for example, pitched in with the 2005 Richard Tuttle exhibition at the San Francisco Museum of Modern Art. But it's hard to remember another season when so many dealers were writing checks to museums for solo shows devoted to their artists, and being credited publicly for it.