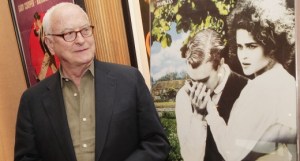 Last night, illustrious film director James Ivory was honored at the Trophée des Arts Gala in Gotham Hall—a fittingly cinematic space with soaring, ornamented ceilings and dreadful acoustics. Uma Thurman didn't attend the black-tie dinner, but she did arrive just in time to give Mr. Ivory his award, which pays tribute to those who promote understanding between French and American people.
Like some kind of Old World potentate—surrounded by a blushing, frenzied team of guards, handlers and publicists—Ms. Thurman was whisked from her car, which was curiously made to first circle the block a couple of times, through central gilded doors, flung open only for her fast approach, and into the main hall. We tried to ask the 37-year-old actress, who was draped in flowing black cloth, a question, but she had little things hanging out of her ears (iPod earphones? cell phone headsets? the new earrings?), so she apparently couldn't hear our frantic calls for a quote. The Kill Bill star did, however, say that she was "so cold."
"I love Uma. She's a great, great soul," said Mr. Ivory, who was smiling over a polka-dotted bowtie in his seat at a central table, where he was flanked by a cache of adoring fellow filmmakers and moneyed Francophiles. The august auteur behind Oscar magnets like A Room with a View, Howards End and The Remains of the Day said he asked Ms. Thurman to present his award because she is a "great friend." He also told us that the Alliance Française called him to say that she's one of their best students. "She's learning French, systematically, which I never did unfortunately," said Mr. Ivory, 79.
He may never have learned the French language, but Mr. Ivory described his long love affair with the home of cheesy soups and Claude Monet. "Starting with Paris, the beauty of so much of it is undeniable," he mused to The Daily Transom. "You'd have to be really dead not to see that, and even though today, when so much is messed up by the modern world, it's still a very beautiful country and a very beautiful place to go." A few moments later, after he asked a server what kind of wine was being poured into his glass, Mr. Ivory mentioned being struck on his first visit to France, at the age of 22, by the country's citizens, artists and literature.
"I've carried that love around with me for fifty years, and it's still there, just as strong as ever," said the director wistfully. Together with his longtime lover, the Indian-born film producer Ismail Merchant, who died in 2005, Mr. Ivory took home six Academy Awards for his work.
"I never really thought in any kind of systematic way about French culture when I was growing up. I read a lot of books about France and I learned a lot about French history and the French Revolution, but I didn't really think about French culture as such," he admitted, adding: "But slowly over the years, the more I came the more I began to absorb what you'd call culture. And it wasn't just about food or wine or that kind of thing—sex. It was really about culture."