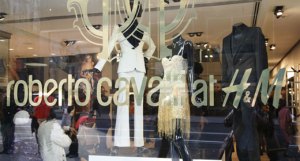 At 12:10 PM, I arrived at the H&M at 18th and Broadway, the nearest chez Observer, thinking I'd check out Roberto Cavalli's new line for the chain. Its debut this morning had been hyped for weeks by images of Leigh Lezark, Jessica Stam, Erin Wasson, and Lydia Hearst partying it up with male models at Cavalli's mansion in Italy.
The store was eerily calm.
Where were the long snaking lines, the brawling ladies, and the eBay opportunists a la Stella McCartney for H&M? Under a large black banner advertising "Roberto Cavalli for H&M," I stood on a red carpet and inspected a selection of nondescript black tops and cheap-looking silver dresses. But this couldn't be it … where were the animal prints?
"I think they sold out," said a young brunette ruefully.
We tracked down a store employee in the dressing room. Was this true? She held up—seriously—one leopard-print thong with black lace trim ($12.90).
"This is all we have left," she said.
The store had opened at 10, she explained, to "lines around the block," and the entire line of 20 men's pieces and 25 women's pieces had been sold out by 11. One woman had even been outside at two AM waiting to buy "this dress," she said, pointing at a promotional sign featuring a bodacious Julia Restoin-Roitfeld (daughter of French Vogue editor Carine Roitfeld) wearing eyeliner and reclining on a scruffy blond male model.
A middle-aged woman in a puffy coat arrived in the dressing room with a pair of gray leopard-print jeans ($69.90), despondent. She had been up at the 51st Street location at 8:30 AM, after calling three times and being told the store would open at 9. In fact, it had opened at 10, and she had had to flee the line for a meeting.

I inspected the magical thong. It looked like the leopard-print thongs hanging on discount racks all over the city. The woman looked on with interest.
"What size is that?" she asked.