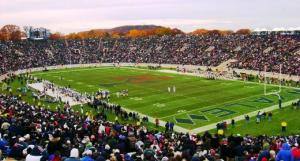 Star Childs, who graduated from Yale with a forestry degree 27 years ago, was hammering a nail into a stump outside Sunday's Yale-Harvard football game. He wore a tie, vest, and blazer, plus matching knit cap, and had a red cup in his non-hammering left hand.
The dozen students gathered around him cheered. "I'm a forester, I'm a lumberjack! And I'm okay," Mr. Childs said. His family owns the one-room Yale Outdoors Cabin, with fireplace, in Bethany, CT.
"That's Star Childs, he's a legend—he's just always here," said Yale School of Forestry student Joe Orefice. According to Mr. Orefice, this was the first time the "northern New England" hammering game had been played during the epic Yale-Harvard tailgate.
"The object is to hit somebody else's nail in before yours get sunk. The person with the last nail standing wins." Very Ivy League!
Meanwhile, in the Yale Bowl's Class of 1954 Field, Harvard was already ruining their rival's season. Yale hasn't gone undefeated since the Eisenhower administration.
Harvard won 37-6. But no one cares about The Game anyway: Ivy League students come to drink spiked cider and wear bad clothing.
Take scarf-wearing Harvard grad Steven Ujifusa, who is working on a book on the naval designer William Francis Gibbs; he shared his pipe tobacco with a scarf-wearing Yale grad.
And there was gray-haired Frederick Kroll, who graduated from Yale last year ("I decided to go back to college at a late date!"), in yellow-red-green plaid pants. This is what he said: "I graduated American studies and African studies. I have a degree in environmental toxicology also. I'm also an elector contractor, and I'm a real estate agent. Want to buy a house?" Also: "I specialize in theatrical lighting."
Meanwhile, Harvard's Black Students Association seemed to be having a better time than everyone else. About one hundred people danced to the anthem "Crank That (Soulja Boy)," by the 17-year-old rapper Soulja Boy Tell 'Em.
Malcom A. Glenn was just elected to head Harvard's newspaper, which makes him "the first black president of The Crimson in more than a half-century," according to a release today.
But two Deliverance-looking men looked on at the dancing from the back of their pick-up truck, which had a Confederate flag decal. It isn't clear how they got there, or which football team they were rooting for.