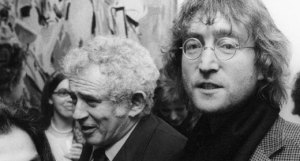 In 1967, a few years after he'd won a Supreme Court case over Tropic of Cancer, Grove Press founder Barney Rosset gutted an old warehouse at 196 West Houston Street.
He kept the place until 1986, occassionally throwing the kind of party (like the one shown here) where John Lennon and Yoko Ono would come drink with Norman Mailer. The Observer called Mr. Rosset, now 85, after a deed in city records showed that his old house had been sold by its current owner for $12 million. "Oh boy! Oh god!" he said. "I don't think we could have gotten $250,000."
Maybe Mr. Rosset should have gotten a better broker for his 1980's sale. "In the ads, it was advertised as The Fortress"– the main windows he put into the facade were two horizontal stripes of very thin, very long glass. "And it was on purpose, because it was a tough street! I'm from Chicago, it was more my style." (Back in Illinois, he said, he married and divorced the painter Joan Mitchell.)
"It was very, very, very modern when we were finished with it," he said. Best of all was the house's ground-floor garage: "You could zoom in off the street and buzz a button in the car and the door would open like magic. It's [nowadays] a common thing, but anyway!" he said.
This time around, the seller is Thomas Martin, the chairman and CEO of equipment leasing and financing group ICON Capital Corp, but the buyer's identity isn't clear from public records. Either way, he or she probably won't be partying with Lennon and Mailer.