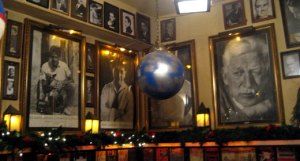 Nearly eight months after a brick wall collapsed, forcing famed Greenwich Village tavern Chumley's to indefinitely lock up its notably unmarked entrance, the once illustrious literary haunt remains a mere shell of its former self.
Barely a shell, even; the old bar is beyond gutted.
"A gutted building implies that there are walls standing," said Steve Shlopak, proud proprietor of the former Prohibition-era speakeasy turned fully liquor-licensed landmark turned much-lamented pile of rubble at 86 Bedford Street.
"There are only two walls that are still up," Mr. Shlopak said. "The rest of the building is held up with construction scaffolding. There is no ceiling and there is no floor; it's just a dirt hole.
"It's almost as if you're watching an old World War II film," he added. "You know how soldiers would gather in the corner of a bombed-out farmhouse where just two walls are still up? That's what we've got here."
But is the battle nearly over?
The firmly entrenched bar owner, whose current 99-year lease doesn't expire until 2086, has lately softened his stance toward much-maligned landlord Margaret Streicker Porres, whose previously planned facade repairs he once publicly denounced as a mere ploy to evict the bar and demolish the old brick building.
Ms. Streicker Porres has developed a reputation for such heavy-handed tactics. Perhaps most notably, her efforts to displace rent-stabilized tenants at four dilapidated buildings on West 22nd Street earned her a place on The Village Voice's 10 Worst Landlords list last year. And she has done little to downplay her infamy since acquiring Chumley's and two adjacent apartment buildings for $6.9 million in 2004, ultimately driving out all but two rent-stabilized tenants of those properties.
Just last month, a Manhattan judge slapped Ms. Streicker Porres and her partners with a $200,000 fine, court records show, for (a) failing to resolve various housing-code violations at 84 Bedford Street, located right next door to Chumley's; (b) failing to file comprehensive plans for restoring that building; and (c) failing to even show up for an Oct. 18 court date.
Ms. Streicker Porres has since challenged that judgement, arguing that the building was "effectively demolished" following a 2006 chimney collapse, which precipitated Chumley's own wall buckling in April of this year, and further asserting that repairs were "economically unfeasible." That case resumes on Dec. 18.
Mr. Shlopak has tangled with the landlord on multiple occasions himself, over both reconstruction and the bar's monthly $17,613 rent, though now, according to the bar owner, "everybody seems to be cooperating."
That includes the city's Buildings Department, which has pressured Ms. Streicker Porres to restore the wrecked watering hole, located in a protected historic district, and recently ordered tests of its foundation. If the ancient site is deemed sturdy enough—a pretty big if, given the 19th-century building's shaky history—then Chumley's long-awaited reconstruction could soon begin. Finally.
"They're gearing up to go," the landlord's spokesman, George Arzt, told The Observer on Monday. "The permits have been issued. There will be coordination meetings with the Buildings Department this week."
"Hopefully, they will come to a relevant decision in a day or two and not take their time on it," said the weary bar owner, Mr. Shlopak. "We want to get Chumley's open as soon as possible."
Various delays, in addition to the landlord-tenant squabbles, have hindered the bar's rebuilding. "It seems a new requirement comes up every week," Mr. Shlopak said.
His initial hopes to reopen this past June were first pushed back to August, then October, then Thanksgiving. Now, who knows? Maybe March.
"Let's assume that everything went on a pants-on-fire schedule and they start construction by Dec. 1," Mr. Shlopak said. "It's going to take them at least 60 days to do their part. And then it's going to take us 30 days to get the inside put back in."