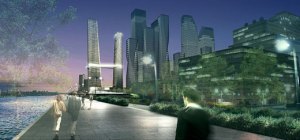 Probably never had so many of New York's real estate elite crammed themselves into such a small space as happened Sunday afternoon at the press preview of proposals to develop the Western Rail Yards: Steve Roth, Stephen Ross, Jerry Speyer and his son Rob, Ric Clark, Gary Barnett, Steven Holl, Helmut Jahn and Rafael Pelli. S.I. Newhouse even dropped by, very casually dressed, as proof that if Mr. Roth's bid won, he'd move Condé Nast west to 10th Avenue.
They all crammed themselves into a vacant storefront on West 43rd Street to show of their versions of New York's future: towering buildings that will pack some 30,000 residents and workers into a six-square block area along the Hudson River, between 30th and 33rd streets. The architectural models themselves costs tens of thousands of dollars; the bids, submitted last month, ate up a few million, according to a number of developers.
Not surprisingly, the five teams talked a lot about how their particular plan creates a vibrant new neighborhood– this, after all, is the retail version of the plans. No financials were disclosed, and the point is to try to curry favor with the public to create a popular favorite. The Metropolitan Transportation Authority–which, with the Bloomberg administration's input, will choose the winner in the next few months–has got to pay more attention to how much money each team is offering, when they'd be able to pay it, and how likely they'd get it done.
"There are two or three of these that are done by teams that are really competent," said Mr. Roth, "and in the end I think it's going to be the financial part of the deal that is going to differentiate them."
Each of the plans profess to save the northern section of the High Line and promise to provide at least some affordable housing. The tallest buildings would stretch 1,000, 1,100, even 1,300 feet into the air. (The Empire State Building now clocks in at 1,250 feet.) The cost, according to a number of the developers, will likely come in between $10 billion to $20 billion, with completion anticipated in the early 2020's.
There were also plenty of wild and creative ideas, like, from Brookfield Properties, Diller Scofidio & Renfro's towers (pictured above) that are joined by a quarter-mile running track; mechanisms to reuse sullage for irrigation; patent-pending technology to create a better platform over the rail yards; a movie screen on which 20th Century Fox could premiere new films; and so on.
The exhibit of the five proposals, which includes architectural models, displays and videos, will be open to the public every day for the next two weeks, from 8 a.m. to 8 p.m., starting today (with the exception of Thanksgiving). The address is 335 Madison Avenue, although the storefront is really located at the northwest corner of 43rd Street and Vanderbilt Avenue. Comment cards will be available for visitors to give input.
The Real Estate will post synopses of the five designs throughout the day.