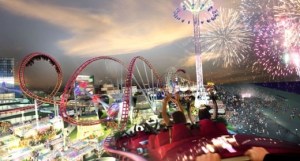 Mayor Bloomberg is proposing to acquire the property that Joe Sitt has been buying up at Coney Island, throwing a wrench into one of the most aggressively marketed real estate ideas in recent history and putting the city into the unusual role of playing carnival barker.
In a speech today before the Brooklyn Chamber of Commerce, Mayor Bloomberg said that he wanted to turn the central amusement area into city-owned parkland that would "preserve the world's most famous urban amusement park in perpetuity," according to his prepared remarks.
The Bloomberg administration and Mr. Sitt, the chairman of Thor Equities, have been battling over just what should go in the 15 acres stretching from the Cyclone to Keyspan Park, a minor league baseball stadium. Mr. Sitt has wanted to rezone it to permit a phantasmagoria of rides, entertainment, retail, restaurants, hotels—and, most infamously, condos.
"The city will work with existing landowners to acquire many of the properties in Coney East," the mayor said. "We hope to achieve a win-win outcome with each of them. That's what we want for all the people of Coney Island, and Brooklyn."
Fasten your seatbelts, ladies and gentlemen. You are in for a ride.